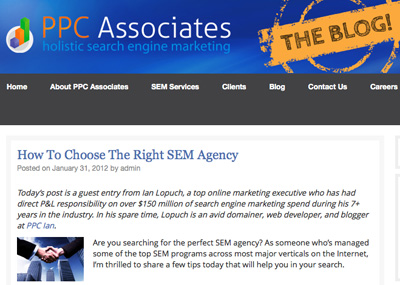 Today, I wrote a guest blog post on the PPC Associates Blog titled How To Choose The Right SEM Agency. Please check it out and let me know what you think!
It's always exciting to do guest posts because it's a great opportunity to get in front of new audiences. You may recall that I did a Guest Post on Acquisio's Blog back in December. Today marks my first guest post of 2012, the first of many. I highly recommend heading on over to the PPC Associates Blog and checking out both my guest post and their other amazing posts. Thanks PPC Associates for the great opportunity!
Image in this post © PPCAssociates.com
Posted in: Networking | Tags: ppc associates, sem agency | Comments: 7 comments so far, join the discussion!