If you've been reading PPC Ian for a while, you know I'm a huge fan of domain names and domain name development. So far this year, I've set a new record in terms of number of domains registered! I've been mostly focusing on dot com, dot net, dot org, dot me, and now dot co. Moreover, I've developed at least 18 domains so far this year. In short, I've caught the domaining bug and can't get enough of this stuff. Today, I wanted to take this opportunity to discuss dot co and why it's the perfect time to register your do co domains!
Dot CO, The Next Big Domain Extension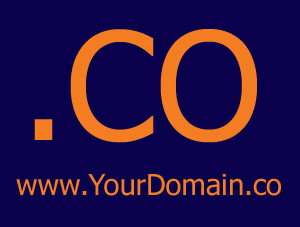 So you may be thinking, what the heck is dot co? Dot co is actually the country code top level domain (ccTLD) for Colombia. However, it's being marketed as the next big global top level domain (gTLD). Just think about it: When you hear dot co, do you think of Colombia? Or, do you think about such concepts as: company, corporation, commerce, commercial? I personally think of the latter and so do the folks behind dot co and domainers worldwide. In fact, over 100,000 dot co domains were registered within the first half hour of this new TLD going live! Another great data point: Overstock.com bought o.co for $350,000. Can you believe it?
It's Your Chance To Buy The Domain You Really Want
If you've ever tried to register a domain name, I'm sure you've run into the same problem as myself: Most of the great ones are taken! These days, if you want a great generic dot com, dot net, or dot org, you're going to have to go to the aftermarket. I actually went to the aftermarket earlier this year to register IJL.net. You may wish to read about my experience buying domains on Sedo, one of the top places to buy premium aftermarket domains.
Now, let's say you want to build a big portfolio or simply don't have the big bucks to shell out for that perfect domain name. This is exactly where dot co steps in. In my opinion, most end users (especially those coming from PPC and SEO) aren't really going to care whether you have a dot com or dot co domain. Dot co in the end user's eyes is about as close to dot com as you can get! So, go ahead and register that domain name. You'll finally be able to get the name you want.
Dot CO Is Great For PPC and SEO (Maybe Not So Much For Branding)
So I know what you're thinking. How can I build a big brand around dot co? Most users are only familiar with dot com and will try to go to my site, but enter dot com and end up elsewhere. I'm totally with you and am not going to argue. If you're trying to build a big brand, it's all about dot com.
However, let's say you don't care about building a huge brand. Rather, you're trying to build a direct business that gets most of its traffic from PPC and SEO. In this case, I'm all about dot co! In other words, whether you have a dot co or dot com, I don't think your PPC click through rate will differ much. In terms of SEO, I also expect dot co to thrive. Why? I've built out four dot me (another great ccTLD being marketed as a gTLD) sites this year and all are doing very well organically. In terms of SEO, I expect dot co to follow in dot me's footsteps.
Dot CO Is Not Cheap
So, where can you register dot co and how much does it cost? Registration is very simple. I recommend going with GoDaddy, one of my favorite registrars. In terms of pricing, you're looking at 29.99/year which is very expensive in the world of domains. For the same price, I could buy three dot coms instead! As such, I have been relatively conservative in my dot co strategy. I only register dot co domains that have at least 20,000 exact match searches based on Google's Keyword Tool External. Otherwise, the domain must have some serious special meaning for me to shell out that much money. While this may not seem like too much money when you're registering one domain, it can really add up when you're trying to build a large portfolio.
Interested in learning more about domain names? I also highly recommend my article about ccTLD domain names in PPC. One of my sub-goals this year: Buying as many great ccTLD domain names as possible. In addition to dot co and dot me, I'm also focusing on dot in, dot mx, dot es, and others!