Hello Everyone,
In my last post, I highlighted my presentation at Stanford's Graduate School of Business. The presentation went extremely well and spanned two action-packed hours of PPC, SEO, and more. I'm definitely proud of this milestone.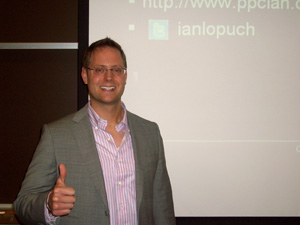 Today my friend David Rogier, VP of Stanford GSB's Entrepreneur Club, uploaded the video of my presentation to the Entrepreneur Club's website! You can check out my online marketing presentation by visiting the Entrepreneur Club's website or by simply watching it below!
I sincerely hope you find it helpful. Also, I wanted to close out by sincerely thanking Stanford GSB, the amazing organizers of the event, everyone who attended, and of course everyone reading my blog!
All the best,
Ian Lopuch (PPC Ian)
PS – As mentioned in my last post, my PowerPoint presentation is available for free! Simply sign up for my free PPC newsletter by entering your first name and email address in the top right corner of this page or by visiting my PPC newsletter page. You'll receive my Stanford GSB presentation in addition to my eBook featuring high leverage PPC career tips, all for free! I recommend following along with the PowerPoint as you watch the video. Don't have enough time to watch the full two hour video? You may wish to scan the PowerPoint and then fast forward to the sections of the video that are most interesting to you! Thanks again!
Video "PPC Ian's Stanford GSB Presentation" © PPCIan.com (An IJL Productions LLC Website)