If you've been following my blog for a while, you can probably tell that I'm heavily invested in my career and professional success. This can be a good thing, a great thing. It can also be a risky thing if you forget to invest in yourself. After all, you are your greatest asset and any investment you make in yourself will multiply many times over in your career, life, and overall success. Even during the busiest times at work, make time for yourself.
For me, 2016 was all about getting into great physical shape. Thanks to my amazing wife engineering a complete overhaul of my diet, thanks enjoying a more active lifestyle than ever before, and thanks to a renewed fitness routine, I lost 25 pounds while gaining lean muscle. I'm in the best shape of my life.
Continuing my theme of growth and personal improvement, 2017 is my year of knowledge. Many of you know that I made a career shift from technology into commercial real estate. I'm like a sponge, absorbing everything I can. My knowledge growth is in full effect, and I couldn't be more excited about my professional growth.
However, I have long been aware that the greatest leaders are not just proficient within their area of focus. Rather, they become experts across a variety of subjects. They bring forth knowledge from different corners of the world to create something completely new. In fact, this is why many believe Bill Gates has his famous book retreats. It's said that he'll sit down with a stack of books, all of which are completely different, and read them in parallel. This process challenges the mind and forms new connections.
This all got me thinking: I want to invest more time reading. I want to greatly expand my knowledge. I know that this process will trigger exponential growth in my career, life, and overall success. However, like many of you, I realized that I just don't have spare time. I'm willing to make some spare time, but cannot read all day.
Then, while on Facebook one day, I noticed that Tai Lopez (avid reader and social media legend) and Alex Mehr Ph.D. (previously co-founder, CEO, and President of Zoosk) launched a new business called Mentorbox. As soon as I learned about this new product, I was immediately intrigued and signed up. Now, three months later, I want to share my experience with all of you.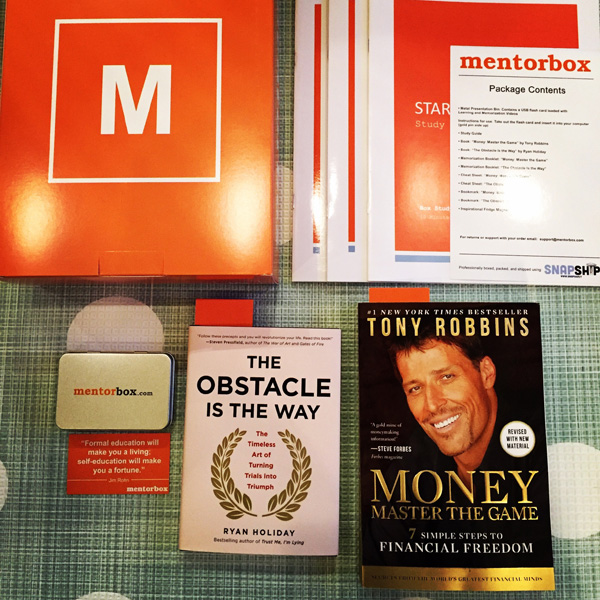 What Is Mentorbox?
Here are the basics on Mentorbox:
It's literally a box that you receive in the mail each month, packed with two curated books, helpful materials, and knowledge.
Each month's Mentorbox includes: two curated books (related to health, wealth, love, and/or happiness), two cheat sheets that summarize the books, two study guides that transform reading into action, two bookmarks with notes specific to each book (a small but very helpful feature), a USB flash drive with helpful videos walking you through the books, and a motivational quote magnet. It's a lot of value for sure!
Mentorbox costs $89.95 per month.
It appears to be easy to cancel at any time. Before my order goes through each month, I get an email asking me if I want to keep going or cancel. I have no intention of canceling anytime soon, but feel good about the way Mentorbox treats customers.
Why Do I Love Mentorbox?
I truly look forward to receiving my Mentorbox each month. Here's why:
As a really busy professional, I don't have a lot of time to curate my own books. I want to read the best books, the ones that will give me the most value. However, I just do not have hours on end to research. It has been said that Tai Lopez has the second largest book club around, second only to Oprah's. This is the guy who reads a book a day and has leveraged his knowledge to do some pretty amazing stuff. As someone with a digital marketing background, I respect what Tai has accomplished in social media. I find incredible value in the fact that Tai and Alex are personally curating books each month, keeping me focused on the books that will drive the most value for me.
Continuing upon the last theme, the cheat sheets and study guides save me a tremendous amount of time. It can take a lot of time to read a book, especially when one of them is 660 pages (Money: Master The Game By Tony Robbins). Here's my strategy: I like to start with the cheat sheets. Then, I proceed to go through and start filling in the study guides. Then, I'll read the book. I will not read every single word. Rather, I will really hone in on the chapters and concepts that appear most interesting to me. As I read through, I like to refer to the reminders on the bookmarks, too. Last, I'll fill out the study guide if I have additional time. This process not only saves me time, but also increases my comprehension, retention, and action.
Given all of my responsibilities, I feel like two books per month is an aggressive cadence for me, a perfectionist. I'm the kind of person that has to read books cover-to-cover, and therefore I've historically been a slower reader. This new Mentorbox paradigm has challenged my process and pushed me out of my comfort zone. Two books per month is currently challenging me (along with all my other responsibilities in life), but I enjoy the challenge.
What Could I Be Doing Better?
As mentioned earlier, Mentorbox comes with a USB drive each month with helpful videos. I have not taken full advantage of these yet. Why? It really comes down to time. I just don't have much time. I have found that Mentorbox works for me without the videos. Could my experience be enhanced with the videos? Without a doubt.
I just checked out the latest USB drive and it includes so much value, including a proprietary video interview with the author of one of this month's books, The Obstacle Is The Way by Ryan Holiday. In fact, Ryan worked with the Mentorbox team on the study guide. How amazing is that?
Here's the critical point, however: You don't have to take advantage of everything in Mentorbox to get tremendous value. The key point, in my opinion, is to just get started and then grow from there. I'm still evolving my own process.
Is It Worth The Money?
The value created, in my opinion, far surpasses $89.95 per month. Just think: How much do you spend on your cable television each month? What's more important to you: reading/learning or watching TV? I'm not saying to give up TV. In fact, I do enjoy watching some good shows. That being said, $89.95 seems so reasonable to me. How much of my time would it take to simply curate two books each month? How much faster am I at reading and absorbing the concepts thanks to the cheat sheets and study guides? Can I even put a price on the fact that I truly look forward to Mentorbox each month and it motivates me to stay in my high growth zone?
Conclusion and A Closing Idea
These days, you're going to see a lot more posts on my blog about business, investing, and growth in general. I'll continue to include digital marketing-specific posts, from time-to-time. However, my mind is in other places these days. I'm thinking beyond digital marketing, and want to share that journey with all of you. I hope you find this review helpful, and I hope I'm able to impact at least one of you to pick up reading.
As a closing thought, I want to share an idea… Do you manage a team at work? If so, you're probably looking for ways to add value and keep your team in high growth mode. Why not purchase Mentorbox for your company? This could be an amazing team exercise and team motivator to have this wealth of knowledge coming into the office each month.
Anybody else reading on the Mentorbox program? Please share your experience, would love to learn what you think about Mentorbox.
Support PPC Ian By Signing Up For Mentorbox
If you find this review helpful and are considering signing up for Mentorbox, I encourage you to use My Mentorbox Affiliate Link. I'll earn a commission which helps me keep the lights on here at PPC Ian. If you sign up via my affiliate link, I'll be forever grateful. Thank you in advance for supporting my blog.
My Mentorbox Video Reviews: Why I Love Mentor Box
If you found this written review helpful, you may want to watch my video reviews as well. In my first video, I'm thrilled to share the top five reasons why I love Mentorbox.
In my second video, I'm thrilled to unbox my newest Mentorbox right before your eyes. If you're wondering exactly what you'll receive in Mentorbox, this video is for you.
In my third video, I share my top five lessons learned from Mentorbox so far. You'll get to see all of the books and materials I have received, and enjoy insights from my personal journal.
In my fourth video review, I address specific questions from Mentorbox skeptics. If you're still unsure whether Mentor Box is for you, and you may even have some active concerns running through your mind, this video may be of particular help.
My Mentorbox 15-Day Challenge: How I Like To Experience Self-Education
As a new update, I just completed my first ever 15-Day Mentorbox Challenge. What's this challenge all about? I pushed myself to complete this month's Mentor Box program in just 15 days. I actually ended up finishing in 8 days (since 7 of the days were sick days). Read about my experience and check out my extensive Mentorbox diary, highlighting my challenge in its entirety. (Also, my write-up has a really neat video review too.) My conclusion: This experiment worked really well and I will always be experiencing Mentorbox this way going forward!
My Newest Mentorbox Blog Post
Learn even more about Mentorbox in my brand new blog post titled Is Mentorbox Worth It? (Is It Worth The Money?) This blog post highlights (in great detail) my journey to complete Mentorbox in 7 days! And, it goes through the question of whether Mentorbox is worth it. (Hint: It's totally worth it.) As an added bonus, my new post has a really detailed video review of my latest Mentorbox! I put a ton of effort into this blog post and hope you enjoy it thoroughly.
My Favorite Mentorbox Book (So Far)
Here on PPC Ian, I receive many questions about Mentorbox. One of the very popular questions goes something like this: "Ian, Is Mentorbox primarily focused on sales, marketing, and business books?" While these topics are represented (and I love reading about them), Mentorbox features an amazing mix of books covering a variety of topics (all pertaining to improving one's life). While the program includes sales, marketing, and business titles, there is also strong representation from other topics such as health/wellness and spirituality. In fact, my absolute favorite book from Mentorbox so far, a game-changer for me, is one all about spirituality. My latest Mentorbox Book Review covers my favorite book in great detail (and also offers a video review too). If you are considering Mentorbox, you will certainly find a great array of books!
Affiliate Disclosure: I am a Mentorbox affiliate. If you find my review helpful and end up purchasing via my affiliate link, I will earn a commission and be grateful for your support.