Are you in the corporate world of online marketing? Want to make a strong impression at work? My tip of the day: Get to know industry trends. Of course you first need to become an expert at your own business, and of course grow your numbers. Once those are on the right trajectory, however, your ability to effectively collect and communicate industry trends will help your business (especially senior management) dramatically. All companies want to benchmark themselves against others and project the future. A solid understanding of industry trends makes all of this possible.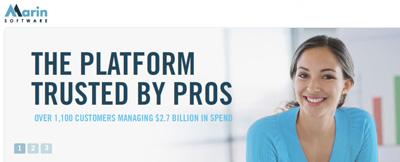 When it comes to pay per click, how do you get solid benchmark data? You can gather some high level information from services like Compete, Hitwise, and Quantcast. Also, you can request benchmark data from your Google and Yahoo! account management teams. I highly recommend both of these strategies.
Now, there is a third way to get benchmark data, one that's low work on your end but super high leverage. I'm talking about benchmark reports published by SEM platforms such as Marin Software. Today, I'm thrilled to share with you Marin Software's Q4 US Online Advertising Report. I just downloaded this report (it's free) and can say without a doubt that you do not want to pass this one up! Following are some of my favorite highlights…
Marin's whitepaper offers 13 pages of outstanding data
Marin compiles data from over 1,000 advertisers and agencies who spend a collective 2.7 billion in annual spend
The whitepaper features some really interesting CPC and match type trends (we're talking about specific and actionable PPC statistics)
It breaks down trends by industry: auto, B2B, education, finance, healthcare, retail, and travel
In addition to computers, Marin covers smartphones and tablets
In addition to discussing AdWords and adCenter, Marin covers Facebook trends too
Download Marin's Q4 US Online Advertising Report tonight and go into work tomorrow as a PPC industry trend guru!
Image in this post © Marin Software