The corporate online marketing career path is amazing. It's a career full of big responsibility, fast-paced growth, complex problem solving, and high powered networking. On the networking side, there's been a really cool trend over the past year or so – It's all about networking at AT&T Park in San Francisco, home of the Giants.
Earlier this year, I enjoyed the Giants/Dodgers game from Marin Software's luxury suite (check out A Day In the Life of PPC Ian). Also earlier this year, I enjoyed the Giants/Marlins game from Google's luxury suite (check out Amazing Times With My Friends at Google).
Tonight, I had an amazing time yet again at Google's luxury suite for the Giants/Padres game. Google is really going all out when it comes to building relationships with their big advertisers, I cannot thank them enough. I had so much fun tonight and especially enjoyed the opportunity to get a picture with the Giants World Series Trophy (below), a special gift to the first 500 luxury suite attendees. If you're thinking of getting into online marketing (or are already in this amazing career), remember to focus on networking. The relationships will take you so far!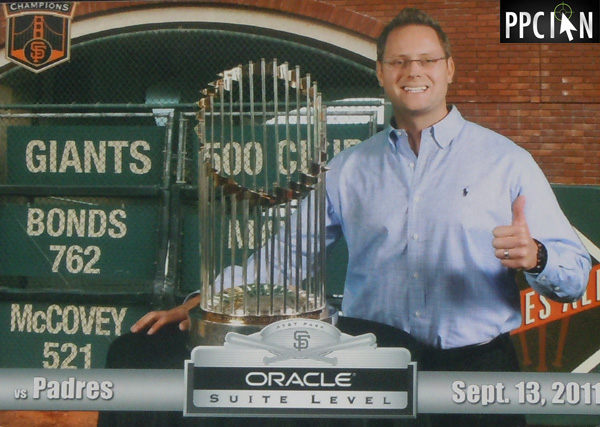 Image in this post © PPCIan.com