One of the most popular posts on PPC Ian is my Blog Commenting Strategy. I'm a huge fan of blog commentating for a variety of reasons. First and foremost, it's fun! It's great to be part of the conversation. Second, it's a great source of traffic. Write an insightful comment and you will quickly gain new readers. Third, blog commentating can be a great source of SEO-optimized dofollow links. That is, if the blog you comment on has a top commentators widget (like the one I have here on PPC Ian in my footer).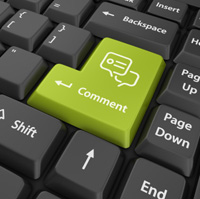 I used to do a ton of commentating. I originally purchased my iPad so I could commentate on the go. I would write comments on the train to and from work. I would bring my iPad to lunch and would write comments during my meal. I would even commentate on my mobile phone while away from my computer. I got a little bit obsessed.
These days, I'm still commentating but not quite as much. Why? Many of the big bloggers such as John Chow and Jonathan Volk have done site redesigns and have removed their top commentators widgets. I used to comment on these blogs multiple times per day because I got my name in the top commentators lists. This gave me thousands of dofollow inbound links, from blogs closely related to mine by topic. Don't get me wrong, I'm still a huge fan of both of these fine blogs, it's just that I don't comment quite as much since there is less of a reward.
So, you may be wondering, why are these big bloggers removing their top commentators widgets? If I had to guess, it probably comes down to preserving link juice (5-10 outbound links on each page of your blog can add up). It probably also comes down to comment quality. When you have as top commentators widget, the comments can sometimes be of lower quality. I particularly saw this happening on John Chow's blog, although not anymore now that the widget has been removed.
As a blog owner, I'm a huge fan of having the top commentators widget. In addition to my top commentators widget, I even ran a Blog Commenting Contest. I feel passionately about rewarding those readers who support my blog by commenting. It takes time to write comments and I do my best to reward those supporting my blog.
The moral of the story: My blog commenting strategy is still very viable, but it's more difficult finding blogs with top commentators lists. They still do exist, however, and I highly recommend seeking them out. You can even search on Google for directories of blogs that have dofollow top commentators lists. Moreover, don't give up on blogs without top commentators. You may wish to throttle back your comments, but I still write many comments to this day on blogs without the widget.
Image of comment © iStockPhoto – pagadesign