In the last three months (February – May), I earned $4,874.26 on the eBay Partner Network (EPN). That's an average of about $52.98 per day of pure margin SEO income (no media costs attached). Considering I hold a demanding full time job (that I love) and that the time I invest in my eBay Partner Network websites is low (maybe 1 hour/week on average), I couldn't be more thrilled with the results. Since my prior posts about my EPN earnings have been so popular (Scoring Record EPN Earnings and My EPN Earnings Rock), I thought I'd do another eBay post today to share my success and a few tips so you too can build your own passive income stream while driving substantial user value. When you're done reading my tips, make sure to check out the screen shot at the bottom of this post that highlights my earnings!
Tip 1: Focus On An Authority Website
My eBay Partner Network Earnings come from one authority website that I started back in 2007. I started this website about a topic I love! Due to my passion, I was able to write hundreds of articles that users love while really sharing my own personality and perspective with my visitors. I consistently get emails from my visitors saying they love my site and I've truly helped them. I invested a ton of sweat equity in the early days (mainly 2007-2008), and continue to update my website consistently to this day (although my commitment right now is about 1 hour/week). (Side note: I don't want to give the illusion that passive income is easy. It takes a ton of up front work, it's just that I'm now enjoying the passive aspect of my income stream because my EPN operation has matured.)
By focusing on one site, I was able to build a ton of quality traffic within a particular niche, thus having the ability to send eBay lots of qualified visitors. I have found that the large scale approach (when combined with quality) works really well! So, if you're thinking about going the multi-site route versus the authority site route, I'd highly recommend going with an authority site.
Tip 2: Don't Go Overboard With Links To eBay
You'd be surprised! I don't have a ton of links to eBay on my authority website. I almost make my visitors look for them. This is really important. eBay is measuring results (in the form of account sign-ups and also winning bids) and will pay you higher EPCs if you drive higher quality traffic. In fact, they tend to over-reward their highest quality sources of traffic. (Side note: You can learn more about this in my review of eBay's Quality Click Pricing.) For this very reason, it's of paramount importance you don't go overboard and you only send quality traffic. My personal approach has involved extremely long, complex, passionate articles that truly help users with maybe one link to eBay. I could send probably 5 times as much traffic to eBay as I am now, but I don't want to compromise the quality because then my EPCs would plummet.
Tip 3: Leverage Text Links To eBay
eBay offers a ton of complex ways to link to them. They offer widgets, the ability to embed eBay results right on your website, and all sorts of options. When it comes to SEO, my strategy is one of keeping it very simple. As such, the majority of my eBay links are text links. Of course, I sprinkle in a few widgets too, but those represent the minority of my EPN clicks. My advice is to not overlook the simple, text link strategy because it works really well with Tip 2 (keeping your traffic quality high).
I hope these tips help you out! I'm super thrilled with my eBay results because of the passive income, but more importantly because I'm learning. I'm learning new skills that help my corporate online marketing career while having fun and making some extra income!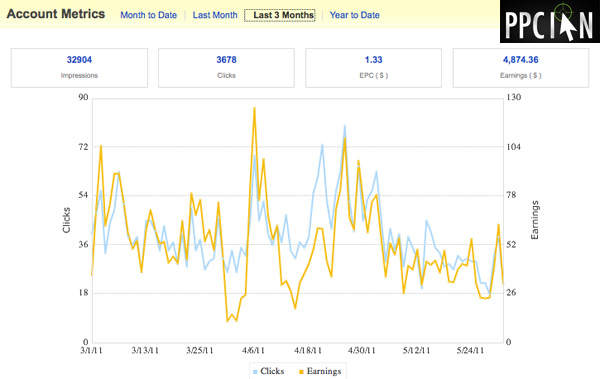 Image of my eBay Partner Network Earnings © PPCIan.com