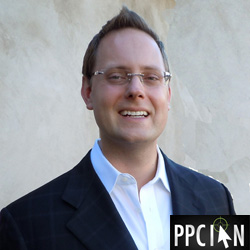 Hello and welcome to my consulting page. Thanks for stopping by! I'm a performance marketer and executive leader who is well known for acquiring valuable customers at scale while simultaneously lowering CPA. I'm all about efficiency, and consistently delivering strong results. I can build and execute upon a sustainable and cost-effective marketing strategy for your business, one that acts as a competitive advantage versus others in your market.
In better understanding the skills and experience fueling PPC Ian, I highly recommend checking out my LinkedIn profile and also my About Me page. Additionally, following is a brief summary of my core skills, experience, ideal projects, and thought leadership. If you're interested in working together, please don't hesitate to reach out or head on over to my consulting company, Laurel Street Enterprises, Inc.

Ian Lopuch's Core Skills
Stanford-educated, high-energy customer acquisition marketing executive with 11+ years experience exceeding goals/targets, leading top-performing teams, and building innovative marketing programs at fast-paced Internet/technology companies.
Career P&L responsibility on over $200 MM online marketing spend. Experience with annual budgets ranging from $1 MM/year to $30+ MM/year.
Invested people manager with exceptional network and experience building careers within digital marketing. Approachable listener, respected leader, truly cares about others.
Growth hacker known for multi-channel marketing approach, friendly/collaborative spirit, getting into the details, and increasing sales while simultaneously lowering CPA. Delivers staggering results acquiring, retaining, and developing customers in competitive industries.
Executive Leadership and Strategy:

Developing and Executing Upon Strategic Marketing Plans and Vision
People Management, Team Building, Morale, Coaching
Customer Acquisition via Online Marketing Programs, and Offline
Getting Into the Details and Delivering Results

Marketing and Media Channels:

Search Engine Marketing (SEM), Pay Per Click (PPC), Search Engine Optimization (SEO)
Programmatic Display Advertising, Retargeting (Remarketing)
Direct Mail, Direct Marketing
Social Media, Blogging
Affiliate Program Management
Lead Generation Programs
Mobile Marketing
Email Marketing
Media Buying
Radio

Technologies, Frameworks, and Processes:

Digital Marketing Platforms, Marketing Automation
Programmatic Segmentation Strategy, 1-To-1 Marketing, Providing True Value To Consumers
A/B Testing, Multivariate Testing, Analytics
User-Experience Design, Testing, Optimization
Online and Offline Creative Development, Optimization
Brand Positioning
Go-To-Market Strategy
Ad Monetization, Sponsored Ads

Business Development:

Business Development, Negotiation
B2B and Partner Marketing
Sourcing, Analyzing, and Integrating Acquisitions
Ian Lopuch's Experience
11+ years of leadership within customer acquisition marketing. One of the foremost leaders within paid digital advertising.
Diverse experience spanning most major B2C categories online including retail (technology, home and garden, fashion and accessories), mortgage, insurance, travel, and people search.
Deep experience leading teams at companies experiencing rapid growth and change.
Grew my career from PPC Marketing Associate at a startup to Vice President, Customer Acquisition at a publicly traded company during a span of 10-years, after graduating from Stanford University with my BS in Computer Science.
My Ideal Consulting Role
My favorite consulting project of all time was performing all due diligence from a marketing perspective for the $100 MM+ acquisition of a technology company by private equity. I'm equally excited revamping an entire organization's marketing strategy, all the way from brand strategy and segmentation to implementation by channel to algorithmic optimization. I'm passionate about what I do and and view each and every engagement as an opportunity to learn and add tremendous value. Please contact me today if you're interested in chatting!
Thought Leadership
Speaker at Self Storage Association (SSA) Spring, 2017 Conference (March, 2017): Expert Marketing With A Lean Team: Get Bigger Results With Fewer Resources
Interviewed By G5 (December, 2016): Meet Ian Lopuch (Partner, Carlo Development and G5 Client)
Webinar Co-Presented With G5 (November, 2016): 5 Steps To Improve Your PPC Campaigns
Speaker at Programmatic.io (April, 2015): The Agency and Marketer Connect
Speaker at SMX East (October, 2014): A Deep Dive Into Bidding Strategies & Bid Modifiers
Keynote Speaker at YPO Wisconsin Chapter Meeting (April, 2014): Investing In Your Digital Marketing Program: The Time Is Now
Speaker at Google (September, 2013): Product Feedback With AdWords Product Marketing Team
Speaker at MediaPost Search Insider Summit (May, 2013): Big Testing and Better User Experiences Through Post-Click Marketing
Video Case Study With Marin Software (September, 2012): Featured On Marin Software Homepage During Their IPO
Speaker at SVForum CXO Forum (March, 2012): Marketing and Branding in the Digital Age Panel
Speaker at Google's Client Connect (March, 2011): Provided one hour of product feedback to Google product management.
Speaker at Stanford Graduate School of Business (January, 2011): Presented two hours of online marketing tips at Stanford's Center for Entrepreneurial Studies. Part 1, Part 2, Part 3
Speaker at Google's Client Forum (June, 2009)
Co-President of The Charles R. Blyth Fund, Stanford University (2002)
Valedictorian of The Buckley School (class of 1999)
Also, please check out my LinkedIn for links to my whitepapers and publications.
Picture of Ian Lopuch © PPCIan.com (An IJL Productions LLC Website)