My good friend Morgan Linton has one of the absolute best blogs on the Internet (if not the best one) about domaining. I have been reading Morgan's blog forever and frequently commentate there. One of my favorite posts he does is his weekend musings (here's a link to Morgan's most recent Weekend Musings). Also, my good friend Jason Thompson has an amazing blog about domaining (on a Dot Co domain name) that I read every single day (I can't get enough of it). Jason also frequently writes about his weekend musings. The week is so hectic that I too like to reflect back on things and think at a higher level during the weekends. Today is my first weekend musings post, inspired by Morgan and Jason, the first of many!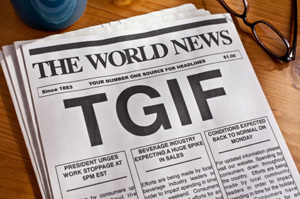 It's really hard for me to say "no". Sometimes I wish I did a better job at this. That said, I'm an ambitious guy and want to do it all. If you're waiting on my for something, hang tight, I will get through everything. So many amazing things to get through in 2012!
I Worked This Weekend again! I didn't work all day Sunday, but worked all day and night Saturday. It honestly felt like all weekend, however, because I slept half the day today recovering from my big day yesterday. I had an important deadline that I just had to hit (others depended on me). It's the beginning of a new year and I'm trying to start the year aggressively. I don't plan on doing this every weekend, but the beginning of the year is a good time to invest the extra hours, in my opinion (since you enjoy the benefits of the work all year and beyond).
I really enjoy working on SEO, as much as paid search. The project I worked on all weekend was actually an on-page SEO one which is quite fun. My advice to those in the PPC career path: Explore related fields such as SEO, display, email, and affiliate marketing. You don't have to spend a ton of time, but even a small amount cross-channel experience will add greatly to your perspective.
Posts about commentating get a lot of interest. I decided to write my post about how Blogs With Top Commentators Are Now Rare as a follow-up to my very popular Blog Commentating Strategy. My new post got a lot of comments and interest. This just goes to show that I'm not the only one who's passionate about commentating.
I'm starting to see Six Sitelinks show up on my paid search ads, not only for trademark/brand keywords but for generic keywords too. Make sure you have at least six sitelinks deployed in each of your Google AdWords campaigns.
SMX West San Jose is coming up in late February. If you haven't registered yet, I highly recommend doing so. Here's my recap of SMX West 2011. I'm particularly excited about joining my friends at Marin Software for a San Jose Sharks game after the conference.
Hip hop is the best. I keep discovering great tracks. I'm listening to this Slum Village track right now called "Hold Tight" that features Q-Tip. I really want to see Q-Tip / A Tribe Called Quest in concert one of these days.
Image of TGIF © iStockPhoto – KLH49