It's the weekend so it's time to relax. It's time to have a little fun and stop taking things so seriously. In that light, I wanted to share some really cool "hidden tricks" today with Google Instant. Some of my team members actually shared these with me on Friday and I was so excited about it. I absolutely can't get enough of Google's humor. For SEM geeks, like myself, this stuff is too funny.
Below, you will see two screenshots. The first is the search engine results on Google when I type in "askew". As you can see, Google Instant technology actually makes the page go askew for the word askew, how cool is that!
The second screenshot shows the search results for the search term "do a barrel roll". This one is so crazy, you just have to see it for yourself. Type in "do a barrel roll" on Google Instant and the entire page does a barrel roll. Obviously, my screenshot is just a moment in time during the barrel roll process.
Bring these into work on Monday and you'll be the hero of your SEM team. Do you know any hidden tricks with Google Instant? There just have to be more. I have not yet taken the time to search for other Google tricks, but definitely looking forward to uncovering more of them!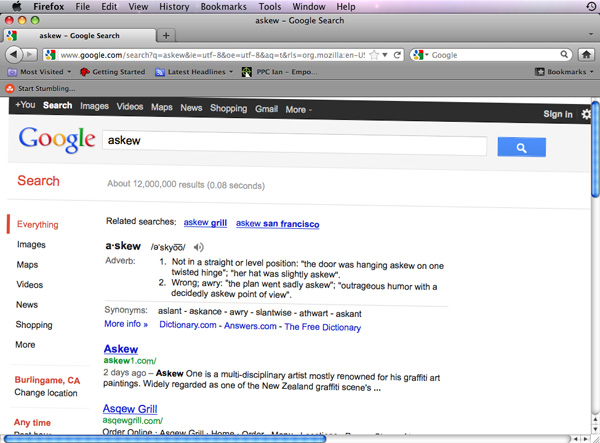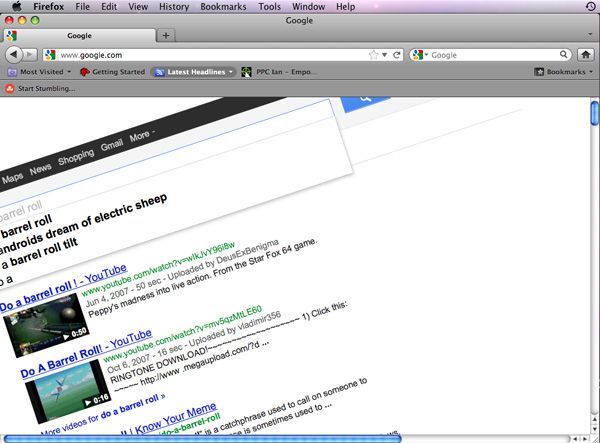 Screenshots in this post © Google search results