I'm a huge fan of SEM platforms and you'll often find me blogging about them. One of my absolute favorite platforms, Kenshoo, has been publishing some seriously amazing whitepapers. A while back, I reviewed their Best Practices For Bid Management whitepaper, one of my all time favorites. If you haven't read that one, I highly recommend it Today, I'm thrilled to review Kenshoo's new FREE whitepaper: 2012 Social Media Advertising Global Games.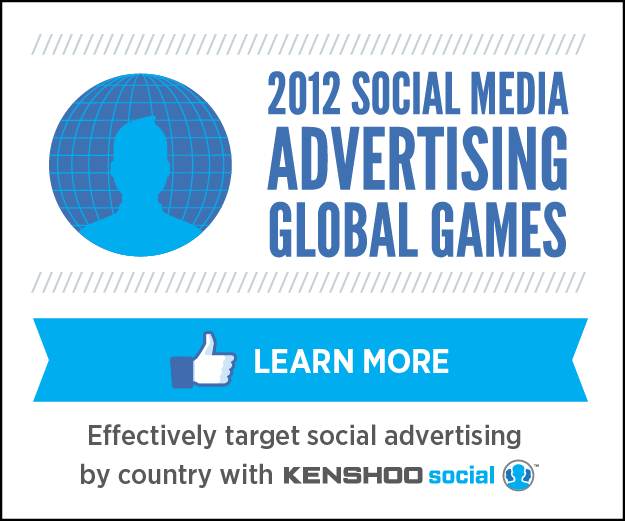 With the IPO of Facebook, more companies than ever are thinking about how they can best advertise on Facebook and other social engines. If you operate a global marketing program, the questions become especially complex. You may be asking yourself, "In which country should I start?" Perhaps you're wondering, "Where can I get the best results for the lowest cost?"
Kenshoo's brand new whitepaper answers these questions and so many more. It's a really fun whitepaper that compares Austria, Brazil, France, Germany, India, Italy, Mexico, Switzerland, Turkey, United Kingdom, and United States across a variety of "games". The specific games include:
Event 1 – Marathon – CPM
Event 2 – 100 Meters – Average CPC
Event 3 – 200 Meters – Average CTR
Event 4 – Archery – Frequency
Event 5 – Football – Exposure Rate
Event 6 – BMX – Maximum Recommended Bid
For each event, Kenshoo's whitepaper shows the gold, silver, and bronze medalists, in addition to providing insights and helpful charts/graphs. At the end of the whitepaper is a neat "Closing Ceremony" that shows the overall winners. I particularly like the closing ceremony because it outlines the best global opportunities for Facebook advertisers. Whether you're a large global advertiser, a single-country advertiser, or an affiliate marketer, Kenshoo's whitepaper is truly invaluable and will help you prioritize your efforts and understand what to expect. Thanks, Kenshoo, for another amazing whitepaper!
Image in this post © Kenshoo