I'm a huge fan of SEM Automation. Great SEM Software suites such as Kenshoo and Efficient Frontier accomplish so many great things – reporting, analytics, keyword generation, cross-platform campaign management, ad copy testing, advanced querying, and so much more. My favorite part of such platforms: PPC bid management. Today, I wanted to share 5 key advantages to implementing your own PPC bid management platform.
Advantage 1: More Consistency In Numbers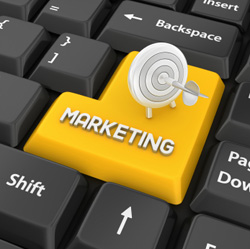 The pay per click landscape can be quite volatile. You have competitors entering and leaving the market all the time. You have bids fluctuating wildly based on time of day, day of week, and week of year. In the absence of a bid management platform, it's likely your CPA is quite volatile over time. You may even have difficulty managing your program to a particular CPA. With a great bid management platform in place, your numbers will be much more consistent. Your CPA will be much more stable, as the platform will update your bids regularly, based on the most up-to-date information available.
From a career perspective, it's all about delivering great, consistent numbers. Every business wants predictability. Implement a bid management platform and it could be the key to your program's success.
Advantage 2: Greater Control and Precision
This advantage really ties into the last one. With consistency comes control and precision. Let's say you're running at a $50 CPA and your management wants you to bring it down to $48 for the month. This type of precision is quite difficult with manual bidding, especially when you're dealing with hundreds of thousands or even millions of keywords. However, with a well-implemented bid management platform, you will have a very consistent CPA. That very consistent CPA will give you more control and precision. Let's say you want to lower CPA by just a dollar or two, this will be possible with precision. It will take some setup time to hit this point, but it's totally possible and easy with a well-implemented bidding platform.
Advantage 3: Ability To Manage More Keywords
Let's face it, more keywords means more overhead. More keywords especially creates complexity in bidding since your data keeps getting sliced in a more and more granular manner. Let's say you're bidding on the term auto insurance (broad match) on a national level. Let's say you now decide to split it out by state. Next, let's say you want to buy all of the different match types. After a while, you have an overwhelming number of instances of the same keyword (at least 153). This is the absolute right thing to do from a campaign management perspective, but makes it more difficult to bid due to thin data. That is, unless you have an intelligent bid management platform in place that can aggregate and analyze data in unique perspectives that are not straight forward nor scalable in Excel.
Advantage 4: Increased Innovation and High Level Thought
When you're bidding in Excel, you're just trying to get the work done. Manual Excel bidding is important work. If you don't have a platform in place, this is what you have to do. That said, when you're in a manual bidding state of mind, it's difficult to innovate and think of big, high level changes to your overall bidding strategy. Get a great bidding platform in place and all you'll do is think about innovate approaches to bidding.
Advantage 5: More Free Time
At the end of the day, automated bid management platforms are huge time savers. PPC is an incredibly busy discipline. We always have a full plate of work. To the extent that you can automate manual work, it will truly make a difference in your program. Use that extra time to work on growth initiatives and you'll see amazing results. In my experience, bid management platforms save house of work every single week!
Image of Online Marketing © iStockPhoto – pagadesign