Hey Everyone,
Today, I'm thrilled to continue with part two of my exclusive Kenshoo interview with Chad Baldwin, VP of Sales. If you haven't read Part One of the Kenshoo Interview With Chad Baldwin, I recommend checking that out first! Also, stay tuned, part three will be coming very soon! Update: Kenshoo Interview Part 3 of 3 is now live!

Ian: It's really amazing how far the industry has come. Just a few years ago, SEM platforms did not exist. Now, I can confidently say that I'm more of a buy vs. build guy. In short, it's a competitive market with a variety of great tools. What sets Kenshoo apart? Where does Kenshoo outshine the competition?
Chad: As in all healthy maturing markets, SEM is becoming verticalized and the first thing that any company needs to do is to understand their own needs and then look at solutions. There are the basics that everyone needs to do well. Reporting, campaign management, engine features – we have done the essentials really well. In Kenshoo, everything structured around natural workflows and intuitive design.
Kenshoo Accelerates From The Pack With Advanced Vertically-Targeted Features
Kenshoo really accelerates from the rest of the pack with more advanced features for targeted verticals. Sophisticated B2B, Finance and lead-focused companies love that our bid algorithm can work off direct CRM integration and decision based on lead-stage and downstream LTV. Multi-channel retailers appreciate our depth and breadth in inventory integration and strength in both national and local programs. Agency partners are driving us towards extensive cross-channel attribution capabilities and sophisticated modeling.
Having been in a number of leading companies in my career, I appreciate more and more that software is a marathon. A feature list is a snapshot in time, but it is the long race and the many legs throughout it that matter most. When I reflect on how we outshine the competition and what sets us apart, it's easy to talk about some of the capabilities I've outlined above and say, "Wow, we rock in X, Y & Z…"
Kenshoo Hires The Best Minds and Most Passionate People In The Business
I think that the most important thing about Kenshoo is that we hire the best minds and most passionate people in the business. We have world class athletes that want to solve tomorrow's problems. It is the character, passion and forward momentum of each employee in Kenshoo that sets us apart…for now and for the marathon. I am very proud to work within a company of such dedication and talent.
Ian: Chad, that's great to hear! I'm an engineer and love companies with an engineering and analytical background. Could you talk a bit about Kenshoo's team and your corporate culture.
Chad: Our strength is our people and our culture. The management team spends a lot of time thinking about this. Firstly, character flows from the top down. Meet Yoav, Alon, Nir. These guys are tremendous – each in his own right. They inspire a culture of respect, passion, collaboration, open and direct communication, stretching and questioning.
We've been fortunate to work with some wonderful companies like Zappos and Facebook and have learned much from the driving energy that is within culture. Below are a few observations and sayings I've heard repeated often within Kenshoo:
We love what we do and enjoy our customers. Kenshoo brings real meaning to the term "partner". We believe in our customers and dedicate ourselves to making them win. The level of our commitment around customer success is highly unique.
We want people to be themselves and share their talent. Kenshoo is not a place where you have to put on a different "face" when you get to work. There is much appreciation for the unique talent of an individual and we want that fostered. Be the best you and that is best for Kenshoo and our clients.
Face forward! Go tackle it. Whenever there is some challenge or issue in front of us, I always hear words that Yoav spoke to me the first week that I joined.
We support each other. We win or lose together. We hope to win … and we only lose if we're not learning. There is a lot of respect inside of Kenshoo.
Creativity is simplicity.
You can probably tell that I am quite a fan of the family that is Kenshoo. We doubled in size last year and my deepest goal is to continue hiring the highest caliber of people around.
Ian: Sounds like a truly great place to work! By any chance are you hiring right now? If so, which positions are in the highest demand?
Kenshoo Is Hiring Aggressively – Submit Your Resume Today
Chad: We are certainly hiring – in all departments and in most every office. San Francisco, Chicago, NYC, London, Tel Aviv, Sydney, more. Postings are listed on our website and more to be posted soon. I think that every manager here feels that his/her open positions are the highest in demand.
Ian: That's awesome! Readers, if you'd like to apply for a position at Kenshoo, please check out their website or simply send your cover letter and resume to jobs@ppcian.com and I'll be happy to forward directly to Chad. I know Kenshoo is a true international company. Could you talk a bit about your global perspective. In which countries does Kenshoo have offices?
A Truly Global Search Engine Marketing Platform
Chad: We are a truly international company. We have primary offices in Tel-Aviv, San Francisco, Chicago, NYC, London, Sydney and satellite offices in Tokyo and Hong Kong. We are excited to open new offices in Europe later this summer. We have taken this approach to both ensure that we are close to our regional customers and can as well provide unparalleled global support to our multi-national clients.
Our product is also truly global. We support all major languages. We integrated with the major search engines in every country including Baidu in China and Yandex in Russia. Our system supports double-byte characters and all foreign currencies.
Ian: Now, I've got a hard question for you! With any SEM platform comes a fee. How do you structure your fees at Kenshoo? How do you compare to the competition? Any advice for folks looking at your platform and trying to rationalize the cost?
Chad: Our license is typically based on a percentage of media spend. The higher the media spend, the lower the percentage tier. We are a well-established leader and our pricing structure is competitive in the marketplace.
Kenshoo Has To Pay For Itself
In terms of pricing and cost justification, we work with customers to make sure that Kenshoo makes sense. We have to pay for ourselves, drive incremental revenue and lower operational costs. In the end, it all comes down to numbers and we have a great track record of driving results.
Ian: All of that makes complete sense. In my experience, great SEM tools can pay for themselves in a matter of months (or even sooner)! The cost savings and growth opportunities are astounding. Couple that with the fact that you're creating a more robust infrastructure and you have a win-win situation. Chad, I'm sure you have an amazing list of clients these days. Could you discuss some of the industries that Kenshoo represents? Are you pretty well balanced or do you cater to some verticals more than others?
Chad: I am excited to say that Kenshoo is big enough at this point that we actually mirror the shape of the entire industry. I spent years as a product manager in SEM studying this market. It's a real achievement to have earned such a nice blend of clients. Mirroring the industry, our top three verticals are retail (6 of the top 10 US retailers use Kenshoo), travel and financial services. We see growth in manufacturing, B2B and Education. We as well mirror how the industry is broken out between in-house management and agencies. At this point, we map to the industry breakdown in the US, EMEA driving results.
Ian: Kenshoo offers an interesting business model. You empower search marketers with an amazing platform while providing stellar service. Could you talk a bit about your account management team? How do they interact with clients on a day-to-day basis?
Chad: I think back to my earlier statement that our primary goal is to make a customer successful. We hire really talented and driven people. Our average number of years of experience in SEM is over 3 years. The Kenshoo platform provides tremendous power, focus and flexibility to a program… BUT you still need to know how to fly the plane. Just to be clear for the readers. Kenshoo is not an ad agency, but a focused technology provider. Our account management team ensures that the system is being used to its maximum potential to drive program goals.
Ian: Chad, amazing stuff! What an awesome interview! PPC Ian readers, if you haven't checked out part one of my interview with Chad Baldwin, I highly recommend it! Also, please stay tuned – part three will be posted shortly! Update: Kenshoo Interview Part 3 of 3 is now live!
PPC Ian Hanging Out With Chad (2nd From Left) and the Kenshoo Team at SMX Advanced Seattle 2010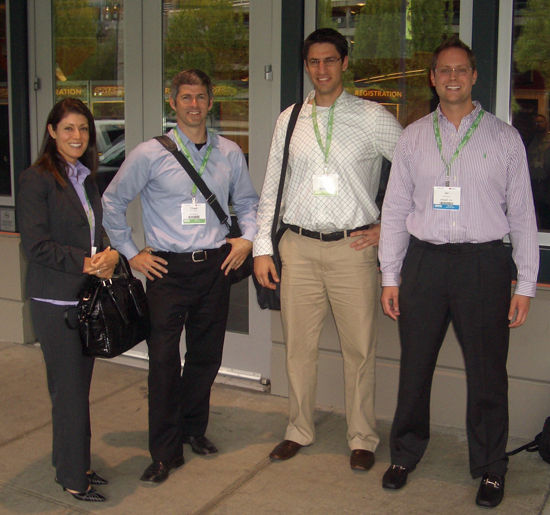 Kenshoo logo © Kenshoo
Image of PPC Ian and the Kenshoo team © PPCIan.com