Have you checked out my SEM Automation Buyer's Guide yet? I highly recommend it! You'll get 12 FREE pages of information about buying the perfect SEM software for your company. I've been at the forefront of SEM technology for the last six years and share my proprietary methodology for choosing the perfect platform.
Two Very Popular SEM Bidding Models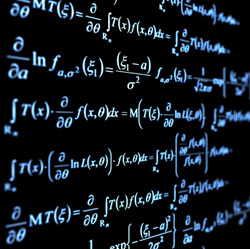 Today, I'd like to stay on the topic of SEM automation and specifically discuss two very popular bidding strategies: portfolio theory and margin maximization. I'm a tremendous fan of bidding automation. It's really the only way to go when you manage hundreds of thousands if not millions of keywords. Of course, you'll always want to involve human judgment (and supervision), especially on high volume keywords, but a solid bidding model will become your organization's SEM backbone. At the end of this post, you will walk away with two things:
An understanding of the differences between portfolio theory and margin maximization.
An understanding of which model makes the most sense for your particular business model.
What is Portfolio Theory?
Portfolio theory based bidding models involve a parameter (or parameters) you're trying to maximize given certain constraints. Typically, you'll find portfolio models set up to maximize volume of conversions within a budget constraint. You'll often have a cost per acquisition constraint as well, whereby the algorithm stops short of the budget if your overall CPA is running too high.
Within your portfolio, different keywords will end up running at very different CPAs (cost per acquisition). You may have some running at extremely high margins with others even running at a negative margin. It's all really a function of the CPA/volume tradeoff. In those cases where the algorithm can drive significantly more volume at slightly higher CPAs, it will go for it. In cases where higher CPAs drive relatively less incremental volume, the algorithm will decide to go for margin. At the end of the day, the algorithm does its best to make intelligent tradeoffs so the overall portfolio's volume is maximized within the constraints.
In my opinion, portfolio based bidding models are absolutely awesome! They tend to break down a bit when you have an unlimited budget, although elements of the portfolio theory can still help you out in that scenario (more on this later). The most well known portfolio software out there: Efficient Frontier.
What is Margin Maximization?
So now we'll move onto margin maximization. Over the course of my SEM career, I've worked mostly at companies that have had unlimited budgets. That's right! As long as the CPA is at or below the target, I have been free to drive as many conversions as possible. It's precisely in these types of situations that a margin maximization model thrives.
What is margin maximization? It's simple: The model basically maximizes your margin (typically percentage margin) on a keyword level. If you have enough statistically significant data on a keyword level, it's easy to just bid 1 – margin percentage target (while also adjusting upward to take into account slack, the delta between your bid and actual CPC). What if you don't have enough statistically significant data on a keyword level? The best margin maximization models will forecast your keyword level revenue per visitor based on closely related keywords.
The primary benefit of margin maximization: You can rest at night knowing that you are never losing money on any keywords (as long as your forecasted keyword values are accurate). One of the downsides of margin maximization: You can sometimes leave volume on the table. If you simply take a lower percentage margin on certain keywords, you may be able to drive significantly more volume. There are a few tricks in getting around this downside, however. The first involves experimenting with different percentage margins in an effort to optimize your dollar margin. The second involves experimentation on a keyword level to allow a few loss leaders in your campaign. The margin maximization platform that I'm most familiar with (and highly recommend): Marin Software.
Which SEM Bidding Model Do I Prefer?
So what's my preference: Portfolio theory or margin maximization? It's really a function of my constraints. If I have a budget constraint, I'm a portfolio theory guy all the way. If I have unlimited budget, I'm all for margin maximization.
Let me tell you however, even in the second case (unlimited budget), I'm a fan of a hybrid approach. I'll manage most keywords to a strict margin percentage. However, I will experiment placing my the best keywords (Google.com only, exact match only, category leaders) at higher bids. In cases where I can drive significantly more volume at a lower percentage margin, I'll sometimes make the tradeoff, especially if my organization needs the volume. In terms of making up the percentage margin for the overall portfolio, I'll often rely on my trademark terms because they run at such high margins.
So I've mentioned Efficient Frontier and Marin Software. What are some other great SEM applications? I recommend checking out Kenshoo and ClickEquations. In a future post, I'm looking forward to discussing some of these SEM applications and more!
Image of Math Equations © iStockPhoto – enot-poloskun