I'm a huge fan of SEM automation. When it comes to SEM automation, my favorite topic is Bid Management. In fact, that's the topic of my last post (the one just linked to). The world of SEM platforms is extremely competitive right now. Leading SEM platforms have a ton of funding. They've recruited the brightest minds around. They are producing amazing systems. What does this mean for online marketing professionals like you and me? Easy: We win, big time!
When it comes to SEM automation, Kenshoo is one of the absolute top names around! I've been following these guys since the early days back in 2009. I cannot speak highly enough of Kenshoo, their team, and their platform. Engineering is deeply ingrained in Kenshoo's culture and they develop some of the most innovative technologies in our industry. Next Wednesday (April 11, 2012) Kenshoo is holding a webinar I'll be attending for sure. Kenshoo will be discussing Enterprise SEM Bid Managment. In particular, members of Kenshoo's marketing and research teams will discuss the current state of bid managment platforms, how to evaluate platforms for your business, and of course Kenshoo's latest technologies.
I'm most excited by the fact that Kenshoo will discuss the Kenshoo Portfolio OptimizerTM (KPO) which was recently released in version 3.0 of Kenshoo's Model-Based Bid Policies. One of Kenshoo's clients, All Star Directories, will discuss how they leveraged Kenshoo bidding to grow their average daily profit by 87%. I can't wait to hear all about it!
Make sure to sign up for Kenshoo's Enterprise SEM Bid Management Webinar today! I know bid management is top of mind for so many of us right now and I truly hope this webinar helps you develop your personal bid management strategy.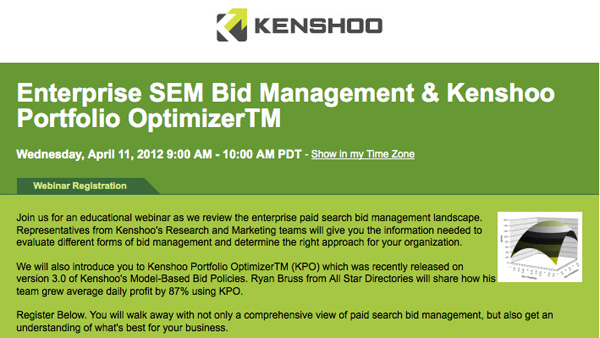 Image in this post © Kenshoo