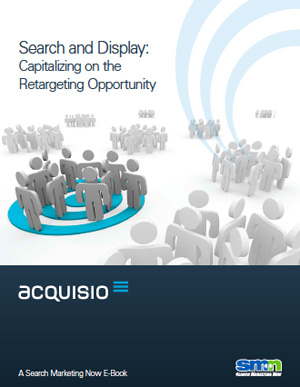 Hey everyone, I have a short but incredibly important post for you tonight! Acquisio has a brand new Retargeting eBook that totally rocks. If you're like me, retargeting is a huge initiative on your to-do list for 2012. The leverage is really there, it's the most cost effective way to advertise on display. However, when you're coming from a search background and your organization does not have a ton of expertise in display, a lot of questions come up quickly. Want to demystify retargeting and get the tips you need for success? Look no further than Acquisio's eBook. Acquisio's eBook in a nutshell:
Learn about the market opportunity with some fascinating statistics.
Understand the synergies between search and display, a winning combination.
Learn about the different types of retargeting.
My favorite part: Get four specific and actionable tips to successfully launch your retargeting campaigns.
Check out a neat B2B remarketing case study.
Retargeting is one of the most important online marketing trends of 2012. Whether you are a retargeting pro or brand new to the opportunity, I highly recommend downloading (for FREE) Acquisio's Retargeting eBook. Once you're done with their remarketing eBook, I also recommend the other Acquisio eBook's I've reviewed here on PPC Ian:
Image in this post © Acquisio