If you've been reading PPC Ian for a while, you know that I'm a huge fan of Acquisio's whitepapers, eBooks, and webinars. Today, I'm thrilled to share with you Acquisio's latest eBook: Building An Attribution Model That Works. This free eBook totally rocks, and I highly recommend downloading it.
What Are Attribution Models?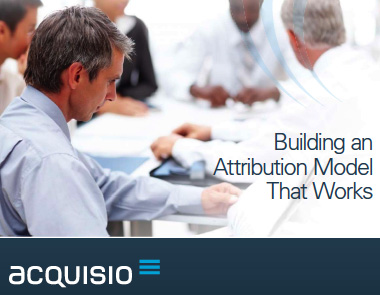 If you're in the corporate world of online marketing, I'm sure you've heard all about attribution models. It has been a really hot topic lately, and a confusing one too. What is an attribution model? First, it involves understanding that the various marketing channels – both online and offline – work together. Rarely is a single marketing channel responsible for a conversion or sale. Rather, the various marketing channels work together, nurturing the consumer towards the sale.
Given that background, an attribution model allows marketers to take the lifetime revenue (or margin) from a sale and attribute it back to the marketing channels involved in the sales funnel. With most traditional models, the channel at the end of the funnel gets most (or all) credit. However, with a modern-day attribution model you can attribute credit back to all channels involved in a sophisticated manner. A fraction of the revenue or margin from the sale gets attributed to each channel involved in the funnel. The end result: You attribute appropriate financial credit to marketing channels so you know exactly what they're worth (and how much to spend on them).
Acquisio's eBook Demystifies Attribution Models
Sound confusing? It certainly can be! However, that's where Acquisio's Building An Attribution Model That Works comes into play. This 9-page eBook covers it all. I'm talking about diverse subjects such as:
Online vs. offline conversions and tying them togther
Pitfalls of last click attribution models
Multi-touch attribution models and how to build them
Eight easy steps to start thinking about attribution models
Formulating your appropriate attribution ratio
Seven metrics to leverage in measuring the impact of PPC on offline conversions
And, so much more!
I highly recommend giving this eBook a read. Attribution models are such a hot topic and whether you're an affiliate marketer, own your own business, or manage campaigns at a direct advertiser/agency, you will want to master these concepts. They will definitely get you thinking at a strategic level and moreover empower you to optimize like never before. After downloading and reading Building An Attribution Model That Works, you may also want to check out Acquisio's other eBooks, whitepapers, and webinars (my favorites highlighted below). Best of all, they are all free!
Image In This Post © Acquisio