Some of my absolute favorite posts here on PPC Ian are the ones about search engine marketing conferences. Yesterday, I attended SMX West San Jose 2012 and the conference absolutely rocked! As always, my favorite part about the entire conference was the networking and fun times with friends, both new and old. Today, I'm thrilled to share tons of pictures and a recap of SMX (Search Marketing Expo) West 2012.
It All Started Off With Great Sessions & Great Lunch
I arrived at the conference early yesterday. Since my team shared our all access pass, I attended sessions the morning of day 1. I picked two really great ones. It all started off with Hardcore Local SEO Tactics and then I headed over to Best Practices With adCenter For Bing.
Both sessions were great, but the first one, the local SEO tactics, really opened my eyes. I'm an enterprise level advertiser for large online brands. Sure I leverage geo-specific strategies to the max, but I've never promoted physical local storefronts before via SEO. The level of insight from the local marketers was really helpful and totally made my day.
Also, I enjoyed the adCenter session too but I'm already an expert with the adCenter Desktop Tool so it was more of a review for me. As far as sessions go, my teammate Mike went to the Power Tools For The Paid Search Pros later in the day and said it was really great. My good friend David Rodnitzky, CEO of PPC Associates spoke at that one!
After these great sessions, I was ready for a great lunch… Back at SMX Advanced Seattle 2011, I met Steve Kroll, Director of Operations at Rocket Clicks SEM Agency. Steve is a true leader in our industry and has become a great friend. I got a text message from Steve right before SMX West saying he wouldn't be there but two of his colleagues would.
I really enjoyed meeting Nicole Mennicke, Director of PPC, and Liz Lord, Senior Paid Search Analyst, from Rocket Clicks. Nicole and Liz kindly treated myself and my teammate Mike to lunch at Arcadia Steak House. (It's funny, Mike and I had lunch last year at that same place. It's really great food.) We had an amazing lunch, chatted and PPC strategies, and I'm totally impressed with Rocket Clicks. If you're looking for an SEM agency, you definitely want to reach out to my friends at Rocket Clicks.
Let The Expo Hall Networking Begin
After lunch, I was fired up and ready to network. So, I headed over to the expo hall at SMX West. Surprisingly, it was a lot smaller than previous years. There were some truly great exhibits there, but it just felt small.
As soon as I walked in, I ran into my good friends from Marin Software. There booth was front and center, right near the entrance. I always enjoy meeting up with Marin because they are so impressive. I have a ton of friends there, absolutely love their SEM Platform (it's amazing), and enjoy hearing about their rapid growth. While speaking with Matt Lawson and his team, I also met Jeff Ferguson, CEO and founder of Fang Digital. Jeff is one of the most seasoned online marketers around, he's been doing this stuff since the mid 90s.
After spending time with my friends at the Marin booth, I headed over to Acquisio. I was totally blown away! Acquisio has a brand new booth that is out of this world. Each year, the booths keep getting more and more impressive. Acquisio's booth was one of the best I have seen. Recently, Acquisio Acquired ClickEquations and they are on a roll!
Next, I started walking around the expo hall and found a company called BrightEdge. I really enjoyed chatting with Brad Mattick, VP of Marketing, and Mark Melnyk, Talent Acquisition at BrightEdge. BrightEdge is a rapidly growing SEO platform for enterprise advertisers. I'm totally going to check it out and am quite intrigued by the platform. After all, I'm the greatest proponent of SEM automation platforms around (such as Kenshoo). I can't get enough of these cool technologies!
Next on the expo floor was BoostCTR. As the name implies, this service/platform helps you boost the CTR (click through rate) and also conversion rate of your PPC campaigns. It was really great to learn that BoostCTR has offices right near mine in San Francisco and I'll be reaching out to schedule a lunch and demo shortly.
While the expo hall floor was a bit small, I was impressed with the quality of companies there. I'm thrilled I learned of two new companies (BrightEdge and BoostCTR) that will help me directly improve my online marketing programs.
Time To Rest & Then Go To The Sharks Game
After the amazing times at the SMX West expo floor, I headed over to the coffee shop at the Marriott. I enjoyed spending some time there relaxing and getting some work done. It's there that I actually published my blog post about 5 Tips For SEM Conferences. I love working at coffee shops and I'm always inspired in that type of environment. I need to remind myself to work at Starbucks and over coffee shops more frequently, it's all about being productive in an environment you like.
After relaxing and working for a bit, I joined my friends from Marin Software for the San Jose Sharks game. Marin, I can't thank you guys enough for treating me to the amazing game! We had such great seats at the Sharks game (check out the picture below). It was actually my first San Jose Sharks game, and I definitely want to go again. It was a real blast. The food at the HP Pavilion was really good too. So, there you have it! My SMX West 2012. I did not attend days 2 and 3. After taking in so much on day 1, my team went to the conference on days 2 and 3. We always take diligent notes and share our findings after the conference so I can't wait to hear what my team learned. I can't wait until my next SEM conference!
More Pictures From SMX West 2012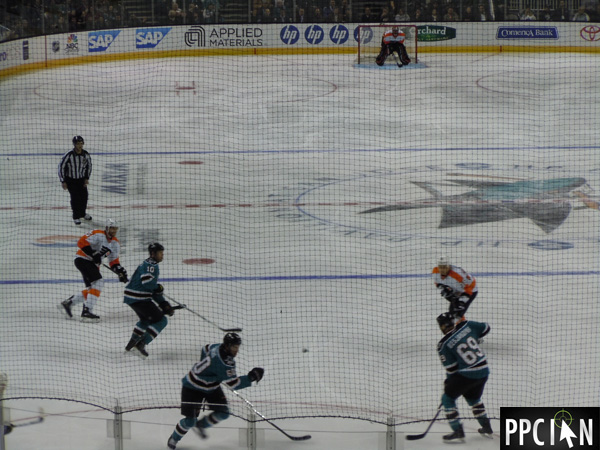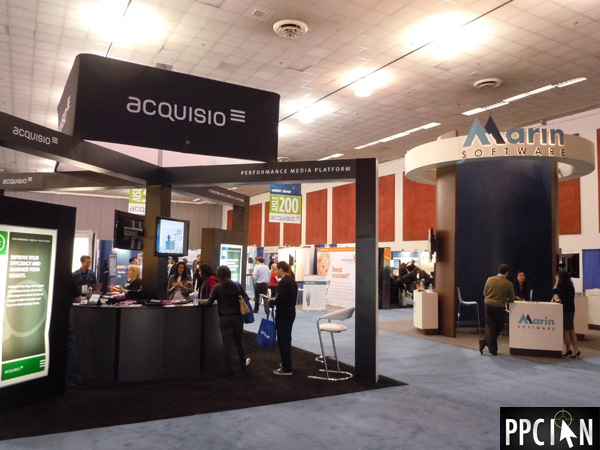 Images in this post © PPCIan.com