Online marketing conferences are the best! Just a month ago, I thoroughly enjoyed SMX West. Last week, I attended ad:tech San Francisco 2012. ad:tech is a great conference. While I was only there for half of the first day (I couldn't stay too long due to a huge amount of work last week), I totally enjoyed the experience and wanted to share a few thoughts about the conference.
First and foremost, I would like to highlight ad:tech as a really special conference. While I really enjoy the other online marketing conferences such as (SMX West, SMX Advanced, and SES), ad:tech is in a league of its own. It's a more holistic online marketing conference covering all online marketing channels, whereas the other conferences are more focused on PPC and SEO. As a focused PPC and SEO professional, I really enjoyed attending the ad:tech sessions and hearing about all different types of online marketing strategies. If you're interested in expanding your strategic focus and online marketing scope, ad:tech is the conference for you.
Second, ad:tech is a really popular conference. It was packed with tons of attendees, clearly demonstrating the strength of the online marketing industry. I felt like the sessions were much more packed than some of the other conferences I have attended recently. Also, the expo hall spanned two levels. It was huge! It's really the attendees that build energy at any conference and it's always more fun attending a packed conference like ad:tech.
Third, ad:tech is the place to network and meet up with friends, both old and new. I exchanged a ton of business cards and built some great new connections. Also, I ran into more old friends than at any other conference. I especially enjoyed meeting up with my former manager and good friend, from Nextag.
So, there you have it, quick recap this time since I didn't spend a ton of time at the conference. However, the time I did spend there was really high leverage. I totally recommend this conference, especially if you're looking for a broader, more strategic perspective about online marketing.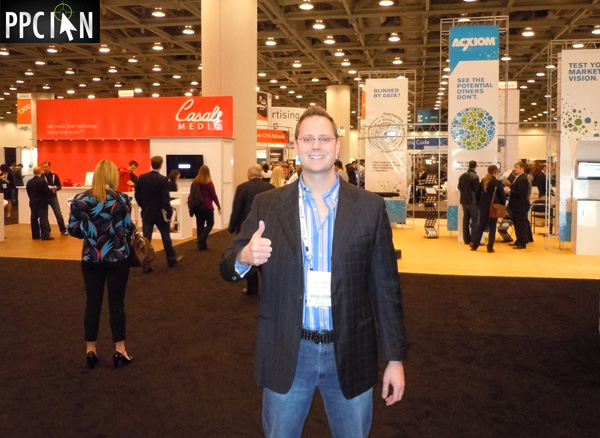 Image of PPC Ian at ad:tech © PPCIan.com