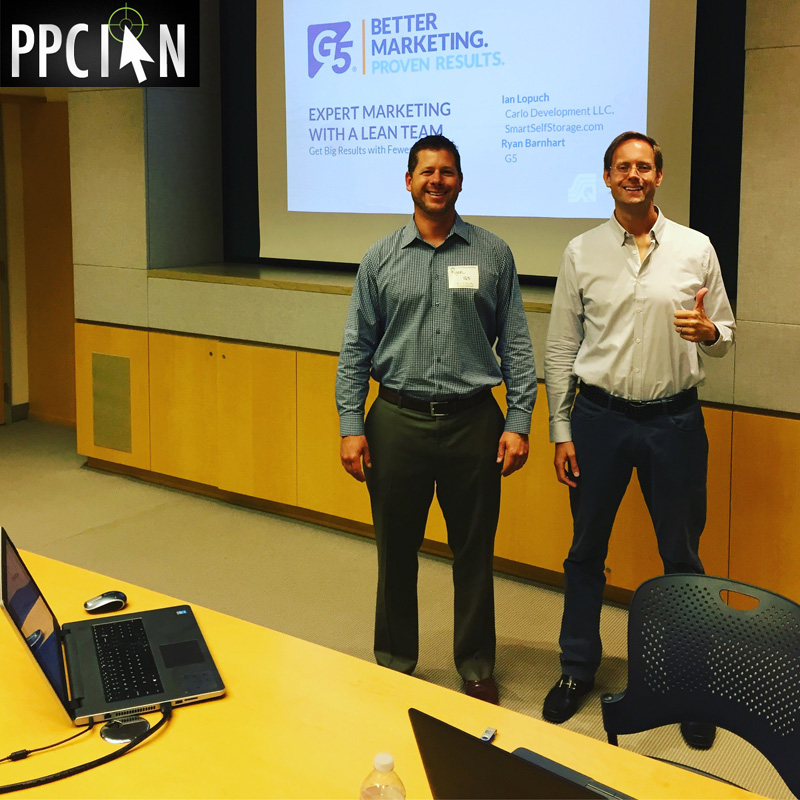 Recently, I enjoyed the honor of presenting at the California Self Storage Association conference in Redondo Beach, California. My good friend, Ryan Barnhart from G5, and I co-presented 2.5+ hours of digital marketing tips for self storage owners. This was a really fun time, especially after having the honor of presenting at the Self Storage Association Spring Conference in New Orleans earlier this year. Today, I want to share my top takeaways and insights from this experience.
Long-Format Presentations Are Fun: Ryan and I co-presented for 2.5+ hours. This presentation reminded me of my two Stanford Graduate School of Business Workshops from a few years back. There is only so much value one can pack into a shorter presentation. When you can secure a few hours and turn your presentation into a workshop, it's possible to truly empower the audience. I feel like Ryan and I did exactly that!
Co-Presenting Is The Best: It's so much more fun to co-present than solo-present, especially when both presenters have unique styles. If you have a big presentation coming up or a big public speaking opportunity, consider approaching the opportunity as a team with a valued colleague. It's easier to prepare that way, and the audience will get more value from two opinions on the same topic. And, it's my belief that it's easier to secure great speaking opportunities because you're bringing double the value.
Your Network Is Everything: I have been blessed with an incredible network, and I take so much pride in turning business partnerships into personal friendships. (If you check out my Digital Marketing and Business Quotes, you'll see that quote 3 reads, "It's all about the people. Turn business partnerships into friendships.") This CSSA speaking opportunity was a really special one, and we didn't even need to apply! Those organizing the event knew of our prior interest and skill level. They knew we would be a great fit, and brought forth the opportunity. There is nothing better than world class opportunities coming your way because of those that trust and value you. It was a true honor to be selected, and totally underscored the value of building world-class friendships.
Smaller Businesses Are the Best: We had some smaller businesses in the audience (and larger ones too). We had the joy of sharing marketing strategies that actually place smaller operators at a competitive advantage over larger companies (with more money). Sometimes, your very perceived weakness can be your greatest strength. Don't be afraid to fight above your weight class!
Pre-Presentation Preparation Is Key: Ryan and I have two very different pre-presentation strategies, and I truly love that fact. While I tend to turn inwards and get "in the zone" during my Presentation Warm-up, Ryan takes the different approach of meeting and greeting each audience member as they walk through the door. How neat to see how we approach things differently, and complement each other as presenters.
It's Totally Worth It: I am actively mentoring a few people, and I consistently push them to seek public speaking opportunities. It's a ton of work, but it's always worth it. If you're on the fence as to whether you should go for it, please do it!
I just got selected for another big upcoming presentation, and am so blessed that these opportunities are coming my way. I'll definitely update everyone here after my next big public speaking event!
Image of Ian Lopuch and Ryan Barnhart © PPCIan.com