I'm the biggest fan of the online marketing career around. This career has been amazing to me. I don't think there are too many corporate careers that offer such rapid growth as online marketing, especially search engine marketing. It's been a while since I've done a career post so I wanted to share a few tips today that will help anyone grow within their online marketing career.
Tip 1: Place Your Company First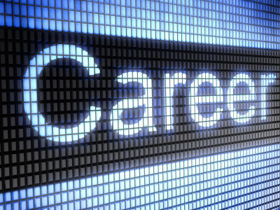 There may be days that you go into work and think, "What can I do today that will make me shine?" You may wonder, "How can I get noticed?" Those are definitely great things to be thinking. After all, these types of questions are top of mind for anyone looking to progress in their career.
However, I would first recommend asking yourself such questions as, "What can I do today to help my company?" Ask yourself, "What can I do to catapult the numbers forward for the benefit of everyone?" When you start thinking about the company and your team, and place your own career aside, you will be doing the absolute best thing for your career. Your career is closely tied to results and the success of the company. Help build your company and you will in turn build your own online marketing career.
Tip 2: Arrive At Work Early
If you work in the Silicon Valley like me, you may have noticed that there's a culture of getting into work a little later at some companies. This isn't the case at all companies, but at some folks will arrive anywhere between 9:30 and 10:30. These same people totally pull their weight and stay late. That said, if you're looking to grow your career fast, I recommend being one of the earlier employees in the office. If everyone arrives at 9:30, why not shoot for 9:00 am? If everyone shoots for 9:00, why not arrive at 8:45 am? There are a few benefits of arriving early. First and foremost, it's easy to think clearly and get a jump start on the day. Second, it positions you as a leader, someone who's dedicated to the company. Third, it's a great way to have a strong handle on your numbers as early as possible (especially important for those of us in search engine marketing).
Tip 3: Make Time For People
The greatest asset of any company is its employees. In the world of online marketing, it's so easy to get ultra focused on work. And, that's a good thing because the work drives numbers and the company forward. However, don't forget to take some time to form lasting bonds with your co-workers. Make sure to go to lunch with others. Walk around your office and introduce yourself. Work on cross-functional projects. The more time you spend with everyone, the more everyone will be able to accomplish as a team.
I hope you find these tips helpful! While they are applicable to any career path, I have especially found them to be helpful in my own online marketing career.
Image of career © iStockPhoto – PashaIgnatov