Today, I'm excited to share a ton of pictures from SMX Advanced 2012. This great conference, hosted in Seattle, covers all sorts of advanced PPC and SEO topics. 2012 marks my third year at this search marketing conference, you can read my 2011 recap here and my 2010 recap here. Each year, I try to take more pictures and I think I accomplished just that with 14 in this year's post! I hope you enjoy the recap and pictures…
Day 0: The Day Before The Conference
This year was the best yet because I attended the conference with my amazing wife, Nicole, and my teammate, Andrew. All three of us flew from San Francisco to Seattle mid-day on Monday. We took Virgin airlines, and it was quite a pleasant flight. I had never flown Virgin America before, and am really happy with the experience, I definitely plan on flying Virgin again.
Once we arrived in Seattle, we took a taxi over to our hotel, The Edgewater. The Edgewater is a really great hotel, and it's the third year in a row I stayed there. Each time it's so much fun, I really love this place! I especially enjoyed this year because Nicole and I had a room on the water side of the hotel (as opposed to the city view side) with a really cool balcony and nice water view. All the way at the end of this post, you can see a view of a sailboat going by from our balcony. After checking in, the three of us were so hungry so we headed over to restaurant Six Seven at the Edgewater. The food there is great and the atmosphere too. Each year, I always have to eat at Six Seven at least once. You can see a picture of Nicole, Andrew and I enjoying lunch to the right.
By the time we had enjoyed a late lunch, it was time to head on over to the SMX Meet and Greet. It was totally packed there. Check out the picture all the way towards the end of this post (the first under the "More Pictures" section). As soon as I got into the Meet and Greet, I ran into the Kenshoo leadership crew – Geoff, Chad, and Claudia. I got a great picture with them to the right. It's really funny because I got a similar picture way back in my 2010 SMX Advanced Post. I think we all aged quite well over the last two years, we all look the same!
After chatting with Kenshoo and complementing Geoff on his amazing social media skills (make sure to follow @geoffshenk on Twitter), I bumped into my good friend Marc Poirier from Acquisio. (Later in the conference, I heard Marc speak about Retargeting, one of my favorite sessions in the entire conference.) After about an hour of networking, we were getting hungry again and decided to leave the Meet and Greet and find some dinner.
After searching restaurants not too far from the conference, we decided to go to Serious Pie. This place was amazing. There's a reason it has four stars and 1,200+ reviews on Yelp – the food is so good (and not too expensive either). (There's a picture of Serious Pie in the "More Pictures" section at the end of this post.) After Serious Pie, it was time to head back to The Edgewater, catch up on work, and then finally get some sleep! Search conferences are so much fun, but can be very tiring too. My advice: Make sure to pace yourself and get as much sleep as possible.
Day 1: An Action-Packed Day of SMX Advanced
Before the Meet and Greet, I had picked up my SMX badge so the next morning I was able to get there right around 8:30, walk in and grab some breakfast, and then head into the SMX Advanced sessions. Day 1 was an awesome day – the sessions were great, the lunch was really good (SMX Advanced has much better food than other search marketing conferences), and I got to network like crazy at the expo hall. In terms of sessions, here are the ones I attended on the first day:
The Periodic Table of SEO – 2012 Edition
Perfecting Your PPC Landing Pages
Getting The Most Out of Retargeting From The Pros
Breaking The Speed Limit: Fast Sites Win!
You&A With Matt Cutts
All of the sessions were good. I especially enjoyed the retargeting one because I got to hear my good friend Marc Poirier speak. He brought in great data from his own Acquisio retargeting experiments. Want to learn ore about retargeting? I highly recommend checking out Acquisio's Retargeting eBook. I also enjoyed exposing myself to SEO sessions. While I'm PPC (pay per click) Ian, I also thoroughly enjoy the SEO discipline too. SEO is so engineering-focused, and I'm a Stanford CS graduate, so this stuff is right up my alley.
During day 1, I also spent a lot of time networking in the expo hall. I'm a huge fan of networking and really enjoy people, especially the amazing people in our industry. You'll see a lot of pictures throughout this post from the expo hall. It's become PPC Ian tradition to grab pictures with all of my friends, new and old, with the signature "thumbs up".
One of the first booths I stopped at was Marin Software. Marin Software is an amazing SEM platform. I'm friends with a ton of employees there and really enjoyed catching up with my good friends Samantha Lee (in the picture above) and also Matt Lawson, Marin's VP of Marketing. Marin always has an impressive and crowded booth.
After spending some time with Marin, I headed over to the Kenshoo booth. The night before, I had spent some quality time with Geoff, Chad, and Claudia. On day 1, I ran into one of my other Kenshoo friend, Chris Cohen. you can see a picture of Chris and I above. I had a ton of fun with this picture because it was part of Kenshoo's "How do [you] Kenshoo" campaign. That's some really solid marketing, and I'm a huge fan of this amazing SEM software platform.
Next, I found the Adobe booth. Adobe offers an amazing suite of online marketing platforms such as Efficient Frontier and Omniture. Adobe has been on a real great trajectory and has developed one of the leading offerings in our industry. At the Adobe booth, I got to meet Julia Soffa (check out the picture above). (Side note: I'm a huge fan of Adobe's New Whitepaper.)
I'm so excited and proud: Nicole is now Product Marketing Manager at BrightEdge. This is a really exciting role. You may recall, I blogged about BrightEdge back in my SMX West 2012 Post. What is BrightEdge? It's the leading platform for enterprise SEO. If you are responsible for managing SEO at a company, BrightEdge is the must-have platform. They are going places and growing at warp speed. Above, you can see a picture of me and the BrightEdge marketing team. To the right is a picture of my amazing wife, Nicole, at the BrightEdge booth. BrightEdge was a Gold Sponsor of the conference.
After having a great time at the BrightEdge booth, it was time to hang out at the SEO Moz booth. I just had to grab a photo with the SEO Moz Bot. Later, I attended You&A With Matt Cutts, one of the highlights of the day! After an exciting day of sessions and networking, I enjoyed the Expo Hall Reception for a bit and then went back to my hotel room to rest for about 1/2 hour.
Then, it was time to head on over to The Purple Cafe for the Marin Software dinner. Marin Software really went all out on this dinner. They invited a lot of clients, both old and new, and treated us all to one of the best meals I have had in my life. The food was so amazing. The company was amazing too. Thank you so much, Marin, for treating us to this dinner, you rule! By the time dinner was over, we were close to 12:00 am. I went back to my hotel room. Nicole was still out at the BrightEdge dinner. I heard amazing things about their dinner too and know that BrightEdge employees and clients had an amazing time. Overall, day 1 of SMX Advanced Seattle 2012 was one of the best conference experiences ever!
Day Two: The Last Day of SMX Advanced 2012
I had so much fun on day 1, that I felt a bit tired on day 2. As such, day 2 was a little slower paced but still super fun. It all started out with sessions. On day 2, I attended these ones:
Keynote with Bing's Derrick Connell
Schema & Authorship: 1 Year Later
Pagination & Canonicalization For The Pros
Landing Pages & Conversion In A Smartphone & Tablet World
I really enjoyed all of the sessions, especially the SEO one on Schema & Authorship. The speakers in this sessions were really knowledgeable and provided a wealth of information and tools to help any SEO enterprise take their business to the next level. I really enjoyed the mobile landing page sessions too. The future is mobile and landing page strategy is especially important to mobile. Carlos del Rio from Unbounce did a great job presenting and I'm glad I got to meet him in-person at the Marin Software booth the day before. (Also, I enjoyed the landing page session from day 1. At that session, Carlos also spoke, in addition to Scott Brinker from ION Interactive.)
Of course, I also spent some great time networking on day 2 as well. I especially enjoyed running into my pal David Rodnitzky from PPC Associates. David is a leader in our industry and runs Silicon Valley's SEM Agency. It's always fun running into David.
At the end of day 2, Nicole, Andrew, and I took a towncar back to the airport. If you stay at The Edgewater, they can book you a towncar the night before for only $45, a real deal (considering a taxi would have cost a similar price). This is a super tip if you attend the conference in future years.
We rushed to the airport for nothing since our flight was delayed (airspace was restricted in San Francisco due to President Obama visiting), but we enjoyed all that the SeaTac airport has to offer. The flight back was full of SMX Advanced folks since San Francisco is such a hub for online marketing. I got back totally exhausted, but super happy that the conference was such a success.
I'm looking forward to future SMX Conferences and thank Search Engine Land, Danny Sullivan, and SMX for putting on such an amazing conference. Until next time, SMX friends!
More Pictures From SMX Advanced Seattle 2012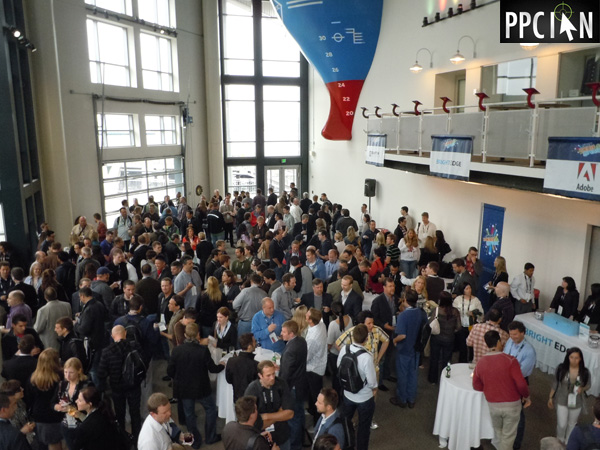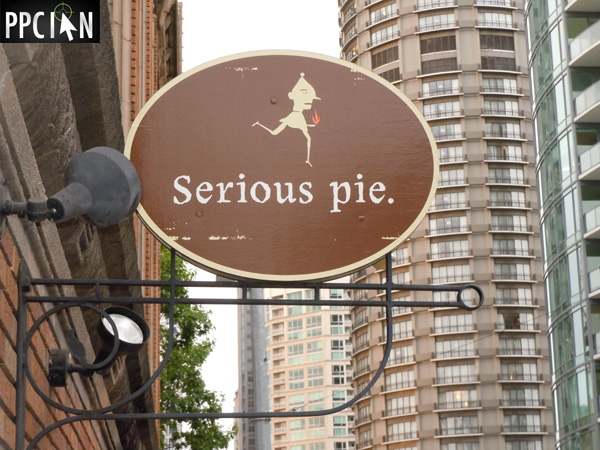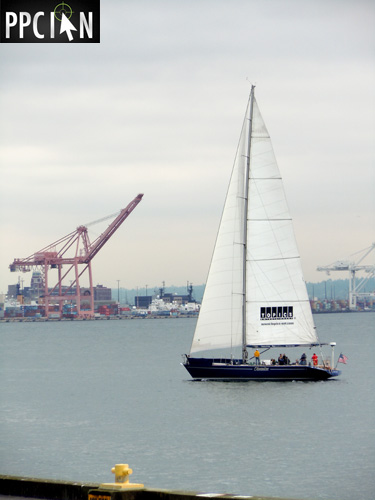 All images in this post © PPCIan.com