I'm a huge fan of Marin Software and have personally leveraged this amazing SEM platform to manage multi-million dollar campaigns. Not only does Marin have an amazing platform and team (including Matt Lawson who I interviewed here on PPC Ian), but they have been offering some seriously great whitepapers – for free! Last time, I reviewed Marin's Optimization Beyond Bidding whitepaper. Today, I'm absolutely thrilled to review Marin's brand new whitepaper: The Search Marketer's Guide to Successful Facebook Ads.
Highlights From Marin's Facebook Ads Whitepaper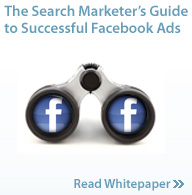 There's no doubt about it: Facebook Ads are taking off. Whether you're an affiliate marketer or a corporate marketing professional, Facebook has become critical to the success of any marketing program. For this reason, I highly recommend downloading Marin's free whitepaper. Here are some of my favorite highlights:
Marin's whitepaper is free and super easy to download it. You can download right after filling out some really easy info (no email confirmation required).
Marin interviewed the largest Facebook advetisers around and compiled their tips and tricks into an easy to digest format.
You'll learn how to leverage your existing fan base to build powerful paid campaigns.
You get to tap into an exclusive Razorfish case study, one of the top online marketing agencies around.
Marin shares a really neat root analysis concept, a creative and algorithmic way of generating new likes and interests.
In addition to tactical tips anyone can put to good use, Marin discusses some of the amazing Facebook features available in their application (with screenshots): Audience segmentation and creative rotation.
So there you have it! One of the can't miss whitepapers of 2011. I highly recommend downloading The Search Marketer's Guide to Successful Facebook Ads. I'm going to leave you with an awesome quote from Marin's whitepaper: "Consumers exposed to a brand's social media content are actually 50% more likely to click on paid search ads and 1.7 times more likely to purchase through search."
Image in this post © MarinSoftware.com