Have you heard of PPC Associates? Based here in the Silicon Valley, they are one of the best SEM agencies around. My personal friend David Rodnitzky started PPC Associates back in January, 2008. Now, PPC Associates has 25+ employees and manages SEM operations for some of the most powerful advertisers on the Internet. If you're looking for an SEM agency, I highly recommend Contacting PPC Associates.
I was absolutely floored when I saw the billboard pictured below driving home from work today! PPC Associates actually has two billboards on 101 in Palo Alto right around the University Avenue exit. This is prime billboard real estate and PPC Associates clearly went big.
While I'm all about online marketing, I'm also a big fan of offline marketing. Just check out my posts about WebEx's Caltrain Station Takeover and Showtime's Photo Booth in Las Vegas. You may also be interested in the guest from Vito Glazers about Offline Email Capture. Vito is CEO of CPA Tank, one of the top affiliate networks around, and his guest post is one of my favorite posts on PPC Ian.
In addition to being a cool case study in offline advertising, I'm thrilled about the new PPC Associates billboards because they officially put pay per click on the map. PPC as a career and industry is getting hotter and hotter. It's advertisements like this that create huge awareness for our entire industry. Nice work David and the entire PPC Associates team!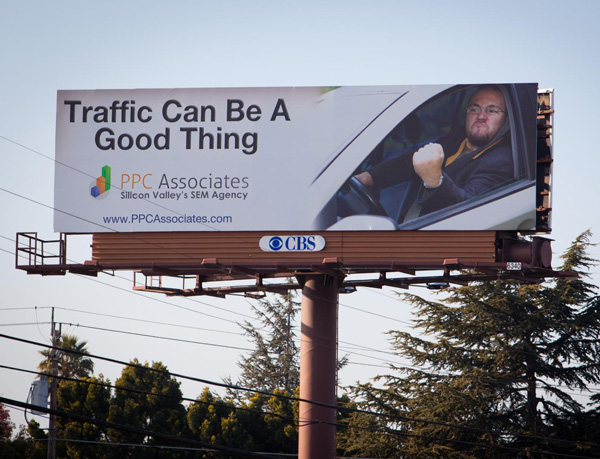 Image of PPC Associates Billboard © PPCAssociates.com