I'm a huge fan of SEM eBooks and whitepapers, I try to read them all. Today I'm thrilled to share one of the best search engine marketing eBooks I have read, The 7 Habits of Highly Effective SEM by PPC Associates.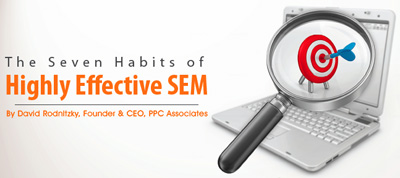 PPC Associates, one of the top SEM agencies around, is on a roll. If you work in the Silicon Valley like me, make sure to keep an eye out for the PPC Associates Billboards on 101 near Palo Alto. They absolutely rock.
PPC Associates co-founder and CEO David Rodnitzky wrote the 7 Habits of Highly Effective SEM. This 25 page eBook is quite detailed, it's single-spaced and offers specific strategies on how you can improve your paid search campaigns. In my opinion, this is a must-have guide for both beginners and advanced SEM gurus alike. It's truly in-depth, one of the most comprehensive around. Following is an outline of the 7 Habits that David covers.
Habit #1: Choosing the Right Search Engines
Habit #2: Choosing the Right Keywords
Habit #3: Creating the Right Ad Text
Habit #4: Setting the Right Bids
Habit #5: Creating the Right Landing Pages
Habit #6: Setting Up the Right Reporting and Tracking
Habit #7: Creating the Right Targeting
It's the beginning of a new year. The 7 Habits of Highly Effective SEM includes great strategies and tips that will spark ideas to grow your search marketing program in 2012 and beyond. After clicking this link, you simply need to enter your name, email, company, phone, and monthly budget. Upon doing so, you will be able to download the 7 Habits guide immediately. I hope you enjoy this great eBook as much as I do!
Image of 7 Habits eBook © PPCAssociates.com