I'm a huge fan of Las Vegas! One of my current personal goals is spending a good amount of time vacationing and working remotely from Las Vegas within the next few years. Recently, I took an amazing trip to Las Vegas with my wife. We had a great time! Also, we happened across a really cool Showtime photo booth that captures email leads. Today, I'm going to discuss both!
Another Awesome Trip To Las Vegas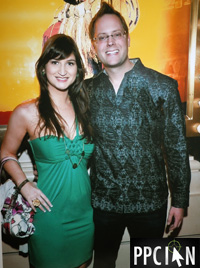 My wife and I try to visit Las Vegas a few times each year. In 2010, we made it there 4 times! We typically like to go when the weather is warm, and that's exactly why we visited Las Vegas at the end of April. While it was still a bit chilly here in the Bay Area, we enjoyed 70-80 degree weather in sunny Las Vegas.
This time, we decided to stay at the MGM Signature. It was my 2nd time at this hotel, and I highly recommend it. At the Signature, you get to enjoy all the amenities of a condo hotel. The rooms are amazing, the hotel is smoke free and quiet, but you are connected to MGM Grand and all its amenities as well. We really enjoyed the MGM pool and especially the lazy river. I've stayed literally everywhere in Las Vegas (Wynn, Aria, Bellagio, Caesar's, Paris, etc.) and rank the MGM Signature towards the top of my list. It's great if you're going to Vegas to relax!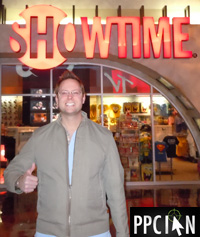 In addition to relaxing at the MGM Signature, we did a lot of fun stuff in Vegas including shopping, eating out, a little bit of gambling, and enjoying a great show! In the picture above, you can see us right before The Lion King show at Mandalay Bay. Going into the show, I didn't know if I'd like it, but must say The Lion King was great. The show was rather long, but definitely worth seeing. I'm also pleased to announce that I actually walked out of the casino making money this trip, always a great thing! It's always fun coming home from Las Vegas because I now have some new clothes to enjoy as well.
My blog is called PPC Ian, so you know I've got online marketing at the top of my mind, even when I'm vacationing. This brings me to my next point: Email lead capture, Las Vegas style!
Capturing Email Leads Via The Showtime Photo Booth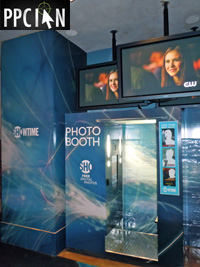 Connecting the Signature to MGM Grand is a tunnel with moving walkways. The tunnel connects to MGM right near the pool, a variety of restaurants, some shops, and a Showtime store. You can see a picture above where I'm in front of the Showtime store. We're fans of Showtime, especially Dexter. Having a store dedicated to Showtime is a really great opportunity for branding. However, that's not what really caught my eye.
Right across from the Showtime store, we discovered a photo booth. Upon first glance, it looked pretty standard. Then, however, we noticed it was completely free. How could this be? So, we decided to investigate and learned that it was a truly unique, interesting marketing ploy. Here's how it works: You go in the booth, take a picture with whatever background you want, enter your email address, and then the booth emails you the picture with some special Showtime offers as well. How cool is that? We had a lot of fun, although the picture did turn out a bit crazy!

I'm a huge fan of both online marketing and also offline marketing. (A while back, I wrote about a really neat WebEx offline campaign.) This is a neat case of online marketing and offline marketing converging. Basically, Showtime is capturing thousands of valuable email leads while branding their shows. Email leads are amazingly valuable. Search engines can change their algorithms and traffic levels from SEO and paid search will fluctuate. However, email leads are yours forever. For that reason, Showtime's strategy makes perfect sense!
We're now planning our next trip to Las Vegas and I'm thinking maybe we'll stay at The Cosmopolitan next time. What's your favorite place to stay in Las Vegas?
All images in this post © PPCIan.com