The last week has been really great. I thought it would be the perfect time for another weekend musings post. Want to check out my prior weekend musings? You my want to check out the first, second, and third editions of my weekend musings. Without further ado, let's jump into this week's musings…
My amazing wife, Nicole, took me to Yoshi's San Francisco to celebrate my promotion (we'll get to that next) last night. We had an amazing dinner and then saw one of my favorite jazz artists, Najee. The concert was totally amazing. While Najee is one of my favorite jazz artists (I have been listening to him since his 1992 album Just An Illusion), I had never seen him in concert before so last night was a real treat. I also got to meet Najee after the concert (pictures to the right and below) and also got my CD signed. As someone who has been truly inspired by Najee's music for many years, this was the best gift ever, thanks Nicole!
In late March, my lifetime goal of reaching VP was realized. I got promoted to Vice President, Search Marketing and it as been a true honor. My new role is everything I imagined and so much more. I feel a deep sense of responsibility and am so thrilled with everything I'm doing. I'm extremely thankful as the honor would not have been possible without an unparalleled team and company, amazing co-workers and mentors, and of course my amazing wife and family.
I had so much fun on Friday! I attended the Giants/Pirates game at AT&T Park with my co-workers. We had really great field club seats (picture below). The Giants won the game and the weather was perfect. It's so exciting that baseball season has started. Just a few weeks back, I attended the Warriors/Lakers game with co-workers as well. Sporting events are a great way to enjoy the company of co-workers while relaxing after work.
Google+ is taking off! If you don't have a business page on Google+, make sure to create one. Google+ is showing up in organic search results and also paid (right rail) from time to time. I'm going to get some screenshots and do a future post on this topic, but long story short it is the perfect time to invest in your Google+ business profile.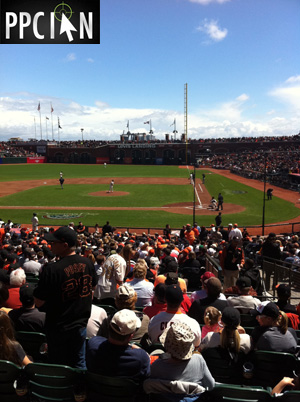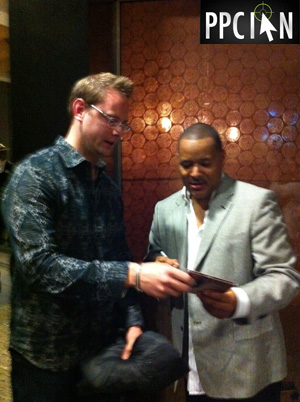 Images in this post © PPCIan.com