I really enjoy writing my Weekend Musings posts. It's been a while since my last weekend musings so I thought I'd go ahead and do a mid-week musings post. Here are a few exciting updates in my life / thoughts going through my mind right now…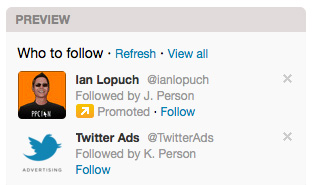 I'm now advertising on Twitter! Thanks to the American Express / Twitter partnership, I was able to secure $100 free Twitter advertising credit and get my Twitter account (@ianlopuch) set up for promoted accounts and promoted tweets. My campaign is already off to a great start and I know that the insights I learn will make me a better online marketer (and will be directly transferable to my corporate role). I'm especially excited because this will help me achieve goal three of my Twitter Advertising Challenge. (You can read about my results so far here.) I'll definitely do a follow-up post when I have more insights from my Twitter advertising.
I have a major speaking event scheduled for next week. I can't wait. Public speaking is really thrilling and rewarding for me. In both 2010 and 2011, I spoke at Stanford Graduate School of Business. So far in 2012, I spoke at SVForum's CXO Forum. I will definitely do a recap of my speaking event in a future PPC Ian post. I'm truly thankful that people are thinking of my when it comes to these speaking opportunities.
My blog, PPC Ian, may have had its most major success ever. PPC Ian is really about you, my readers. I blog here due to my passion for helping others and giving back to our industry. Thanks to PPC Ian, I have formed some amazing friendships and business partnerships. Just last week, I was able to connect a PPC Ian reader who has become a personal friend to a really stellar job opportunity. That PPC Ian reader ended up landing the job! Of course, all credit goes to this person for landing the job, but I like to think that I helped out in a small way by connecting two parties that I respect incredibly. Without PPC Ian, it's unlikely I would have formed such a great relationship with either party. This news really made my day/week. Helping others always puts a smile on my face and is the goal of PPC Ian.
Surround yourself with positive people who have a "can do" mentality. Remember and document the positive feedback you receive. Winners work with other winners. Ignore the haters, but also embrace them because they are a direct reflection of your success (more haters = more success). Here are some of my Sources of Inspiration.
I was over at Google's Mountain View campus today. My team and I met with several members of Google's product management team to give client feedback. Earlier this week, Microsoft met with my team to collect product feedback. There is a clear trend in our industry of soliciting feedback directly from the end user, via in-person meetings. I'm a huge fan and can't thank the search engines enough!
I have been building great friendships with SEM Agencies such as Rocket Clicks and PPC Associates. I'm a huge fan of SEM agencies and recommend working with agencies even if you have an in-house team. They provide such a valuable perspective and value-add. If you're looking for a great SEM agency, these are two awesome ones to contact.
I hope you're having a super week. Thanks so much for supporting PPC Ian!
Image of Twitter Ads © Twitter