The weekend is here, thank goodness! If you're in online marketing, it's all about taking some time to relax and reflect during the weekends. That's how you stay motivated and productive for the long run! Thanks to inspiration from my good friend Morgan Linton, I started writing these weekend musings posts to take a step back and reflect on my week. Without further ado, let's jump into this week's musings…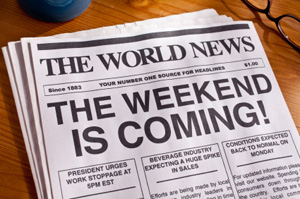 I really enjoy public speaking! Last Tuesday, I spoke on a panel at SVForum's CXO Forum at Sheppard Mullin Palo Alto about Marketing In The Digital Age. This was an amazing event and truly distinguished panel. I was humbled and honored to be on such an incredible panel. Moreover, I was dazzled with the high caliber C-level audience. My advice to those in the corporate online marketing career path: Go after public speaking events, they will grow you as a person and as a leader.
It's all about connections. How did I get the speaking opportunity on SVForum's CXO Forum? I was recommended and referred by a friend/co-worker who has some seriously impressive connections. It's really important to build strong connections. Also, it's important to make your connections your friends and, of course, make sure to pay them back (or even better pay them forward) whenever you can! Everyone wins!
I'm intrigued by customer testimonial marketing/product marketing (mainly becuase my wife is an expert at this stuff), and had the amazing opportunity to do a Video Testimonial for Marin Software. I'm really pleased how it turned out. Not only is their product amazing, but Marin has a world-class marketing team (and video production team). Thanks, Marin for the opportunity, you rule!
You can't do it on your own! I have had some incredibly difficult decisions over the past few weeks (in a good way). I wouldn't be where I am without my wife, family, friends, and mentors. Also, I have been following a lot of inspirational folks on Twitter such as Diddy and Rev Run, and their Tweets have been truly inspirational. Find your sources of support and inspiration. Become a source of support and inspiration for others. Stay inspired, stay on your game!
One of my big 2012 Goals is donating a record amount to charity. Today, my wife and I cut a check to Second Harvest Food Bank that's 300% the amount of any other single donation we've made in our lives. It felt good. There is no reason that anyone in our community should go hungry. Get out there and help those in need of assistance!
About a month ago, I Was Live on the Radio. My good friend Donald Landwrith hosts an amazing show called The Free COO. It's an amazing show, and quite inspirational.
Thanks for reading! You may want to also check out my the first edition and second edition of my musings. Wishing you an amazing week!
Image of The Weekend Is Coming © KLH49