I'm a huge fan of Google+. It's an amazing way to connect with your most passionate advocates. It's also incredibly well-integrated with all Google products, including AdWords, organic search, YouTube, and more. Being a cornerstone of the Google strategy, I'm an advocate of investing heavily in your Google+ program.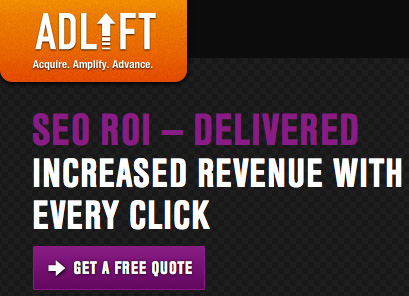 I'm also a tremendous fan of AdLift, the Bay Area's SEO Agency. With customers like Comcast, PayPal, at&t interactive, and SHOPSTYLE, AdLift is one of the most advanced agencies in the incredibly complex world of SEO. Also, they're great people. Here's a fun post about PPC Ian having lunch with Prashant Puri (CEO) and Johnny Shami (VP, Business Development) from AdLift.
In addition to offering an amazing Cyber Monday Special to PPC Ian readers, AdLift also extended the opportunity my way to write a guest post on their amazing blog. You may recall, a while back I guest posted about Collaboration Between SEO and PPC Teams.
This time, I continued the theme of collaboration between earned media and paid media, with a focus on Google+. Think Google+ results should be completely owned by your social media and SEO teams? Think again! There are a multitude of strategies paid media teams can leverage to add tremendous momentum to your Google+ efforts. Head on over to the AdLift blog and read my post about Driving Google+ and Social Media Results Via Paid Campaigns. While you're there, please say "hi" to the AdLift team on my behalf! Thanks for reading, and I wish you an amazing weekend.
Image of AdLift © AdLift