I've had a blast lately contributing guest posts to some of the best digital advertising blogs around. In my last post, I highlighted a cool AdLift Guest Post. Today, I'm thrilled to share another…
I'm great friends with the AdMedia team. AdMedia is one of the best ad networks around. They also happen to have an incredible blog. When they presented the opportunity of contributing a guest post, I brainstormed topics that would be relevant not only to the digital marketing professional but also specifically to someone considering advertising on AdMedia and other ad networks. In an industry that's incredibly focused on the big three (which, of course, makes complete sense), I decided to write a post about Diversifying Beyond Google, Yahoo!/Bing, and Facebook.
I absolutely love Google, Yahoo!/Bing, and Facebook. They are to the digital media portfolio what large cap blue chip stocks are to the investment portfolio. The cornerstone of any great investment portfolio (or digital marketing portfolio) is diversification. What about the mid cap and small cap equivalents within digital marketing?
There exists great opportunity for the savvy marketer to diversify and add to the big three with complementary media sources. Manage your digital marketing program like a well-diversified portfolio of investments, and you will find new levels of consistency and efficiency. I hope you enjoy my post!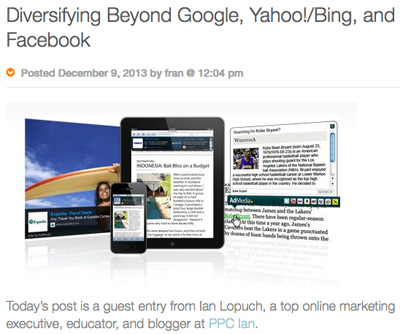 Image of guest post © AdMedia