Hi Friends,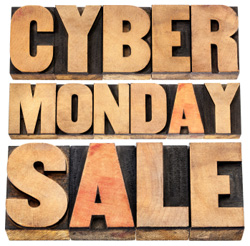 Happy Thanksgiving weekend! There is so much I'm thankful for, including this blog and you, my readers. It has been such an amazing year, and I'm thankful that PPC Ian is 4 years old, thanks to your support. To share the holiday spirit, I have compiled some really exciting deals to share with you today, thanks to my amazing sponsors.
Think Black Friday and Cyber Monday are all about retail? Think again! Today's post shares special deals for the digital marketer.
Two out of the three deals below are FREE! The other, in my opinion, is close to free since the pricing is so incredibly low (and the returns you will get should very far outpace the cost).
Have fun shopping, and Happy Thanksgiving!
Sincerely,
Ian
Deal 1, Today's Special: Acquisio Platform at 1% of Ad Spend OR Acquisio Platform Plus Budget and Bid Management at 1.5% Ad Spend (First 6 Months)
The headline says it all, I would totally understand if you stop reading and drop everything to head on over to Acquisio for this very special opportunity.
Have you heard of Acquisio? They are one of the best digital marketing platforms around, and one of the original sponsors of PPC Ian. The prices mentioned above are truly outstanding, among the lowest I have seen for any top-tier digital marketing platform. Are you in the market for digital marketing technology? Confused by the sea of start-ups and multitude of options? My experience in this industry: It's often advantageous to go with one of the larger names, those who have been around since the beginning and offer economies of scale. Hint: There are only a handful of larger name platforms that have stood the test of time. Acquisio is one of them, and I highly recommend seeing if Acquisio is the right fit for your agency or business.
Moreover, Acquisio leaders (such as my good friend Marc Poirier, Founder and EVP) are unparalleled values-driven business leaders.
Deal 2: Free PPC Account Audit From Rocket Clicks, Digital Agency
Whether you're new to PPC or an industry veteran, an account audit from an unbiased third party is always incredibly welcomed. A free audit from one of the most advanced digital agencies in existence is a true blessing! An expert look at your account will always yield helpful insights and optimizations. I'm thrilled to share a really special deal: My good friends at Rocket Clicks digital marketing agency are offering a special account audit to the first 10 people to contact them by end of day Monday, December 2! Simply head on over to their Contact Us page and enter "PPCIAN" next to your URL.
They are offering a free condensed PPC account audit, that will have 5 immediate account optimization suggestions. The audit will be performed by my good friend Nicole Mennicke's team (Director of PPC Advertising). How can you beat that? Timing is perfect as well, you can add the optimizations to your 2014 roadmap (anyone planning for 2014 right now?).
Deal 3: Free SEO Site Audit From AdLift, SEO Agency
Have you heard of AdLift? They are one of the most amazing SEO Agencies in existence. They do SEO for some of the biggest and best brands around, those brands who require industry thought leaders when it comes to SEO. Prashant Puri, CEO of AdLift, is thrilled to share an exclusive free website audit with PPC Ian readers (thanks, Prashant!). Want to sign up? It's easy, simply enter your contact info and the code "BLACKFRIDAY-PPCIAN" on the AdLift Contact us Page. AdLift is offering this special deal to first 10 who respond by end of day Monday, December 2. This deal is the perfect complement to the last one. Take advantage of both opportunities and you will have a full queue of PPC and SEO optimizations for 2014 and beyond!
I hope you find this list of deals helpful, and I wish everyone a very Happy Thanksgiving weekend. Have fun shopping, digital marketing style!
Image of Cyber Monday © iStockPhoto – marekuliasz
Disclaimer: PPC Ian is sharing deals compiled from others, for entertainment purposes. Please consult the companies providing the deal for specifics, terms are subject to change.