I started domaining back in 2007, but really caught the domaining bug in 2009. Over the last year, I have been absorbing pretty much any information I can get my hands on regarding the domain industry. A big turning point in my domaining education: Attending T.R.A.F.F.I.C. Las Vegas.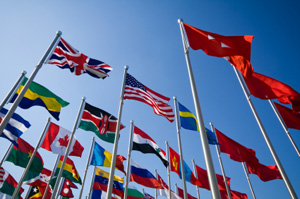 Lately, ccTLDs have been getting a ton of buzz. What the heck is a ccTLD, you ask? ccTLDs are country code top level domains. Some of the really popular ones are dot us (United States), dot me (Montenegro), dot in (India), dot de (Germany), and dot mx (Mexico). In fact, according to Ron Jackson, ccTLDs sales are now outpacing gTLD sales (global top level domains such as dot com, dot net, and dot org). So why am I talking all about ccTLDs on this pay per click search engine marketing blog? Simple: I'm here to pose a test (slash challenge) to all of you. My challenge: I propose that ccTLDs will become an important part of pay per click online marketing within the US over the coming years. The remainder of this post will explain why!
ccTLDs are Cheap Right Now
I'm going to start off with a freebie for all of you loyal PPC Ian readers. Here it is: Right now (as of 11:44 PM pacific on 3/15/2010) the domain Degrees.mx is available to hand register for only $49.99 on GoDaddy! I'm serious. If I wanted to go out and buy Degrees.com on the aftermarket, I'm probably going to be out anywhere between $1,000,000 and $10,000,000 depending on how good I am at negotiating.
Why is Degrees.mx a great domain name? This is obvious to anyone in the education vertical. Education is one of the most lucrative and competitive verticals on the Internet. With a domain like Degrees.mx, you can have great display URLs in your pay per click campaigns like Accounting.Degrees.mx and Business.Degrees.mx.
The challenge here: Users aren't as used to seeing the dot mx ccTLD. My hypothesis: I think it will work as a PPC display URL in the US. Will it perform as well as the dot com, dot net, dot org, or even dot us? Most likely not. Is it going to beat a long, convoluted domains like so many of us use? Quite possibly, in my opinion, definitely worth a test! Now, I don't have the time or resources to test this, but would love to hear if one of you does. Could be some money on the table here. Because of their cheapness, I view ccTLDs as a great option, one that we'll see more of in the US and global pay per click landscape over the coming years.
The Meaning of ccTLDs Transcends Their Country
One of my personal favorite ccTLDs: dot me. I have been accumulating a portfolio of dot me domains since the first day they launched several years back. While dot me is the official ccTLD of Montenegro, it has been marketed as a global TLD. In my opinion, it makes total sense: dot me is all about "me."
Let's take another really popular category: mortgage refinance. Imagine if you bought the domain Refinance.me. In my opinion, this is an awesome pay per click domain. It flows really well and is personal. The Internet keeps getting more and more personal. If you don't reach out to your users on a personal basis, you're not going to get the conversion. Dot me ccTLD makes the personal connection easy.
Another great ccTLD: dot co. Dot co is the official ccTLD of Colombia but it's being marketed as the next huge global TLD. It makes sense: What do you think of when you hear dot co? I think of company and commerce, very similar to dot com. For that reason, there's a lot of opportunity here. Currently, GoDaddy is taking pre-orders for the dot co ccTLD (to be released to the public later this year) so it's a great time to start thinking about investing in a few for your PPC future!
PPC Organizations Are Becoming More Global
Let's go back to my first hypothesis, that one can successfully leverage generic sounding gTLDs in the US AdWords market. Let's say I'm wrong. It certainly wouldn't be the first time! I love testing and embrace my failures because they only mean I'm one step closer to success. If I fail every week, I know I'm doing my job and pushing the boundaries. In this case, I'd like to argue that these generic gTLDs are still very useful in paid search. Why? The industry is becoming a lot more global. A lot of the easy money in the US is gone. However, when I look at other countries, we're just getting started. Buy your domains now so that you can leverage them in the future.
One nuance: Degrees.mx is unlikely to work in Mexico because it's an English word. However, if you choose countries where English is very prevalent, especially in the business world, you're golden. One example: Degrees.in. I imagine this would do well in India.
As a closing point, make sure to research before buying domain names. Some countries have restrictions. A good example is Canada. Unless you're a Canadian business or citizen, there are some restrictions that you'd want to become very familiar with before registering dot ca domains. There are ways to make this happen, but I've been sticking to the basics myself: Registering domains that don't have restrictions such as my beloved dot me!
Image of Global Flags © iStockPhoto – yesfoto