Over the years, I have written a multitude of posts here on PPC Ian about Epik. The most popular ones have been my introduction to my Personal Epik Product Portal Websites, my Epik Product Portal Development Tips, and of course my special Epik Product Portal Tips and Coupon Code. I'm a big fan of Epik, a big developer on the Epik Product Portal Platform (I now own 60 Product Portals), and am now officially on Epik's Board of Advisors (check out my bio on the Epik Team page). I couldn't be more thrilled when it comes to everything Epik and today I'm excited to give an overview of some new stuff going on at Epik that you're sure to love.
Epik Is Now A Full Service Registrar
In July, 2011 Epik acquired its very own registrar, IntrustDomains. You can read all about Epik's acquisition in this post on the Epik blog. Long story short, the acquisition on Intrust completed Epik's dream of becoming the most comprehensive domain asset management platform on the Internet. We're talking about the whole domain name lifecycle here: Acquire, build, manage, and divest. Epik is my registrar of choice and next I will show you how I'm leveraging Epik every single day to manage my domain/website portfolio.
All Domains From All Accounts In One Place
Check out the screenshot below, this is what it looks like when I log into my registrar account at Epik. You'll quickly notice that there's a world of functionality at your fingertips (I'll get into that a bit later). First, however, I wanted to underscore an amazing feature that is really helping me out: Epik displays all of my domain names from all of my registrars. I'm able to manage all of my GoDaddy, Moniker, and Epik domains in one convenient location. Recently, I did a quick sort by expiration date and noticed that I had a good 30 domains at Moniker expiring in February. Last night, I leveraged this intelligence and logged into my Moniker account to renew all of the domains. Also, I noticed that I have a few GoDaddy domains expiring on the horizon and will take care of those shortly.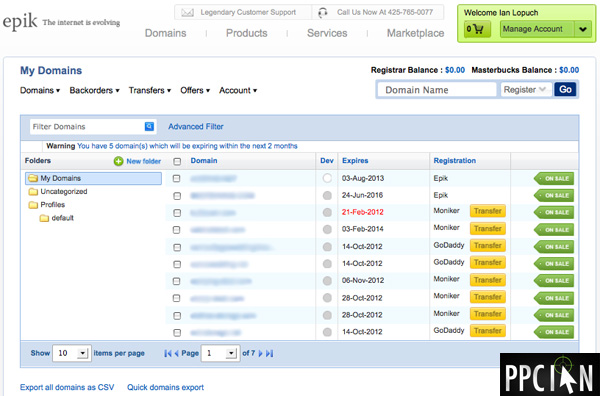 A World of Functionality At Your Fingertips
Epik makes my life easy. The screenshot below illustrates the menu that appears when I hover over a domain click the "manage" button on the main control panel (previous screenshot). Whether I'm looking to update whois info (such as toggling between public/private registration), forward a domain name, transfer domains in/out of my Epik account, renew domains, organize my portfolio, or virtually anything else I want to do, it's all in one convenient location. Even better: I can select multiple domains at once and manage them in one bulk update. In short, Epik is one of the most user friendly registrars around. Even better, domain registration fees at Epik are cheap ($10/year) and you get all of this amazing functionality (including domain privacy and domain forwarding, if you want it) for free.
An Amazing Selection of Development Options
In the screenshot below, you can see Epik's suite of domain development packages. I personally developed 60 of my own domains on Epik's Product Portal Platform. However, you can quickly see that Epik offers much more than Product Portals. I'm talking about lightening fast web hosting (several different hosting packages), SiteBuilder, LeadGen Portals, Recipe Portals, and Video Portals. When it comes to making money online, Epik has you covered!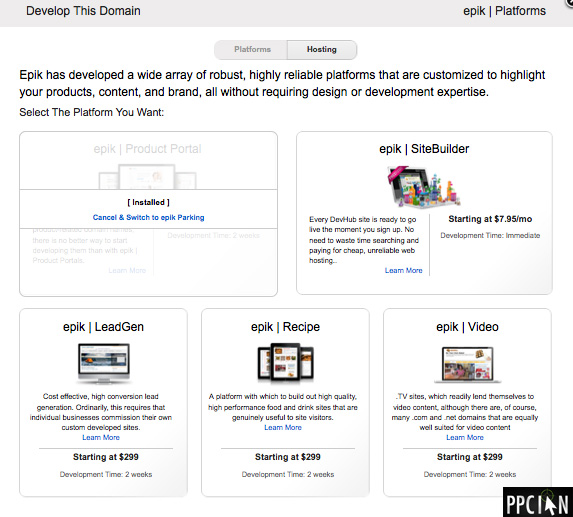 Offer Your Domains and Websites For Sale
Looking back at the first screenshot in this account, you can see that all of my domains have an "on sale" price tag next to them. I have listed many of my domains and websites for sale on the Epik Marketplace. I'm in the domain game to make money. Most of my money comes via passive income from developed websites and I'm holding onto most sites for the long term. That said, I'm definitely exploring the idea of selling domains and websites in 2012. If I'm able to earn cash by selling virtual assets, I can funnel those earnings into other passive income instruments (dividend-paying stocks or even the development of more websites). Epik owns over 20,000 domains in their own portfolio so they know all about selling domains. Leverage their expertise and platform to sell your domains/websites today.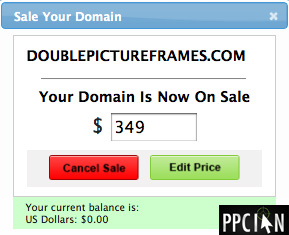 So, there you have it, the most comprehensive registrar around! The crazy thing: I barely scratched the surface of the Epik platform with this post. If you're looking to acquire, build, manage, and divest domain names, Epik has the entire lifecycle covered. Open your account at Epik today!
Images in this post © Epik and PPCIan.com