Epik product portals rock! Last time, I wrote all about my personal Epik product portal websites. I currently own 45 developed websites on the Epik network, three of which I highlighted in my last post. Another few examples include Motorbike Jacket, Velour Tracksuit, and Cheap Desk. My last article was a real hit and I'm especially thankful for the awesome comments from all of you! Today I'm thrilled to continue the Epik discussion. Specifically, I'm going to share actionable tips that will help you make money with Epik.
It All Starts Out With The Right Domain Name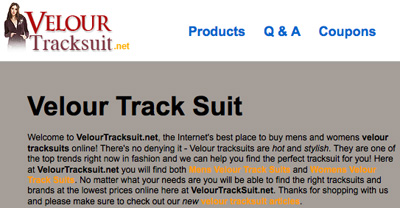 So you're convinced and ready to launch your first Epik product portal website. Great stuff! Whether you're new to domain names or a seasoned domainer with hundreds (or even thousands) of domains, there are some important things to consider when choosing which domains to develop on Epik. First and foremost, you'll want to pick a name that is an exact match of a product sold online. If you have other types of names, Epik can still help, but you'll want to look at their other platforms instead of the product portal that I'm so familiar with.
Second, I suggest picking an exact match domain that gets at least 700-1,000 or more global exact match searches per month according to Google's keyword tool. My site Velour Tracksuit gets 1,600 global exact searches per month. If you start venturing below this level, you won't have enough searchers to make it worth your while.
Focus On High Quality Dot Com and Dot Net Domains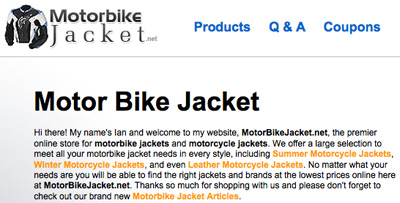 Third, you'll want to pick a name name that's either a dot com or dot net domain. You've heard me talk a lot about dot me, dot co, and other TLDs here on PPC Ian. I'm a huge fan of many TLDs and have developed sites on dot com, dot net, dot org, dot me, dot co, dot info, dot us, and dot biz. However, for the purposes of Epik product portals, they're looking to really preserve the integrity of the network and stick with high quality dot com and dot net for product portals since the main purpose and intent of these TLDs is commerce. This surprised me a bit at first, but now it totally makes sense. I have a ton of dot org product domains and have been building them out differently – I'm going the article route with my dot orgs and making them more informational whereas I'm going the product sales route with my dot com and dot net domains. The strategy has been working great! Have a killer domain that's not a dot com or dot net? Share it with the Epik team! They'll definitely let you try alternate TLDs for product portals if they're category defining names.
Dot Com Domains With Dashes Are OK
As a side note, you may be wondering about domain names with hyphens in them. Whereas a few years ago, these domains were looked down upon, they seem to be in everyone's portfolios these days. Taking myself as an example, I developed the domain Cheap-Desk.com on Epik. This exact match hyphenated domain name has 1,900 global exact match searches per month, it's a great name! Here's the rule when it comes to hyphenated domains on Epik: Epik totally allows and supports great hyphenated domains on dot com but does not entertain them on dot net. Now, if you're like me, you're thinking that rules are meant to be broken! Have a great dot net domain with a dash in it? I would certainly run it by Epik, but it's going to have to be a killer name to get accepted.
Content Is King On Epik Product Portals
So my first few tips today focused specifically on selecting great domain names for development on Epik. Now, I'm going to shift gears and discuss a few high leverage tips for making the most of your sites once they're live on Epik. My strategy is really a three tiered one. First and foremost, I always make sure to upload custom articles to my Epik sites. Taking Motorbike Jacket as an example, you can see that I have custom articles about Buying a Motorbike Jacket and Motorbike Jacket Purchasing Tips. I had these great articles written for me on ELance (always go with the more expensive writers, they do better work) and were super easy to upload with Epik's WYSIWYG editor. My golden rule: Each Epik product portal needs at least two custom articles.
Custom Blurbs On All Epik Product Tabs
Each Epik product portal has a variety of product tabs. On MotorbikeJacket.net, for example, I have tabs for Summer Motorcycle Jackets, Winter Motorcycle Jacket, Leather Motorcycle Jackets, and Motorcycle Rain Jackets. Check out the blurb at the top of each of these pages! They're all custom and unique. They all differ from the custom blurb at the top of my main homepage. Moreover, if you view the source code of these pages, you'll see that each has a custom meta title and meta description as well! I have my ELance writers write this custom content when they're writing the articles. This is really your chance to personalize your Epik Product Portal and get rewarded by the search engines! To summarize, my second content tip: Write custom blurbs, meta titles, and meta descriptions for all product tabs on your Epik sites. It's super easy to upload this custom content via Epik's back end tool.
Leverage The Epik Team
It's really as easy as that! These simple tips will get you off to an amazing start on Epik. Once you've completed these steps, it's all about repeating with more domains and also continuing to add more content to your existing domains. Search engines (and users) love to have as much useful content as possible. As my final tip for today, don't forget to reach out to the Epik team. They can help with an amazing number of things and are partners in your success. Leverage their expertise to make as much money as possible on Epik.
Image of VelourTracksuit.net © VelourTracksuit.net
Image of MotorbikeJacket.net © MotorbikeJacket.net