I can't believe it. It feels like I just wrote about PPC Ian's First Anniversary yesterday. Today, it's the second anniversary of PPC Ian! (Actually, it was on 10/29, but I'm a few days late to blog about it.) I wanted to take a moment today to reflect on the last two years, and of course thank you, my loyal readers.
Some Cool PPC Ian Statistics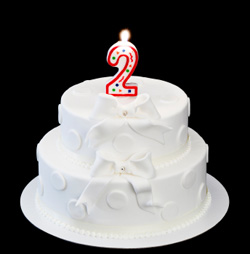 I'm a paid search guy, so I can't get enough statistics. Here are some cool ones about PPC Ian:
171 posts (including this one), that's an average of 1.64 per week
1,698 valued comments from my awesome readers, that's an average of 16.33 per week
73,693 spam comments deleted thanks to Akismet
1,302 average visitors per day (last 30 days)
My top referring keyword: "sem software"
My most popular post: Bluehost Add-On Domains and htaccess
I'm really thrilled with how far PPC Ian has come. My goal for the next year: Push my posts per week and get that 1.64 average up to 2. PPC Ian is just getting started.
Thank You For Reading
I want to take this opportunity to sincerely thank you for reading PPC Ian. It takes a lot of persistence and dedication to keep blogging for two years. I truly love this stuff. I'm obsessed with pay per click and online marketing. That said, PPC Ian wouldn't be at the level it is without my amazing readers. Thank you so much for your questions, comments, emails, and support. If you have a specific idea or wish list, please don't hesitate to reach out. Also, a huge thank you to my amazing wife and my blog sponsors for your support. Here's to an amazing third year and beyond!
Image of Birthday Cake © iStockPhoto – aluxum