Hello Everyone,
I couldn't be more excited! I just got back from one of my best presentations ever! I spent two full hours at the Stanford Graduate School of Business educating students about online marketing. I specifically presented on PPC and SEO and couldn't be more thrilled with the outcome. (Fast Forward: I provide info at the end of this post on how you can download my PPC and SEO PowerPoint presentation.)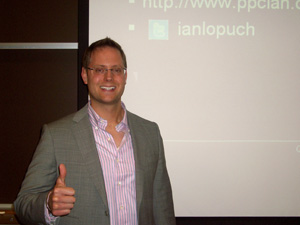 However, before we get into the details, I want to start out by sincerely thanking Stanford GSB's Entrepreneur Club, Center for Entrepreneurial Studies, Marketing Club, and the High Tech Club, the organizations that sponsored my event. In terms of people, I want to sincerely thank:
David Rogier – VP of the Entrepreneur Club and Resident at the Center for Entrepreneurial Studies. David organized my event and I can't thank him enough!
Tia Gao – Co-President of the High Tech Club
Kate Gronso – VP of the Marketing Club
Brendan Marshall – Co-President of the Entrepreneur Club
Tony Hsieh – Co-President of the Entrepreneur Club
Ibrahim Elbouchikhi – Co-President of the Entrepreneur Club
I short, the folks mentioned above are none other than amazing. I was blown away by Stanford GSB's leadership team. I'm very excited to have some new friends.
As you may know, I graduated from Stanford back in 2004 with my BS in Computer Science and Minor in Economics. In my opinion, Stanford is the best university out there! When VP of Stanford GSB's Entrepreneur Club David Rogier invited me to speak at Stanford, I just couldn't pass up the amazing opportunity. As you may know, I'm really big on goals and a big public speaking event is on my list of 2010 goals. I'm extremely excited that this event allowed me to complete my goal (and then some!). Over the past few weeks, I have been working very diligently on my presentation, one that provides actionable tips to optimize PPC and SEO online marketing campaigns. All of the students in the audience have businesses they are trying to launch. I hope that my PPC and SEO strategies help launch their dreams!
During my presentation, I was very thrilled to see an engaged audience for two full hours. How awesome is that! It really was amazing how fast time flew by. Moreover, I was floored with the awesome questions that the attendees asked. This level of interaction really made my presentation fun. It's hard to find a sharper audience than Stanford GSB students, in my opinion.
For all PPC Ian readers out there, I want to make my PowerPoint presentation available for your viewing! As such, (in addition to my free eBook) my Stanford GSB PowerPoint is now free when you sign up for my newsletter! All you have to do is enter your first name and email in the box in the upper right corner of this page (or on my PPC eBook page). Already on my newsletter list? I will be sending you my presentation very shortly. Thanks again everyone, you are the best!
Sincerely,
Ian Lopuch (PPC Ian)
PS – Big thank you to my beautiful wife, Nicole, for designing my PowerPoint template and for making it look amazing!
PPS – The video of my presentation is now uploaded! Check out my Stanford GSB online marketing presentation video!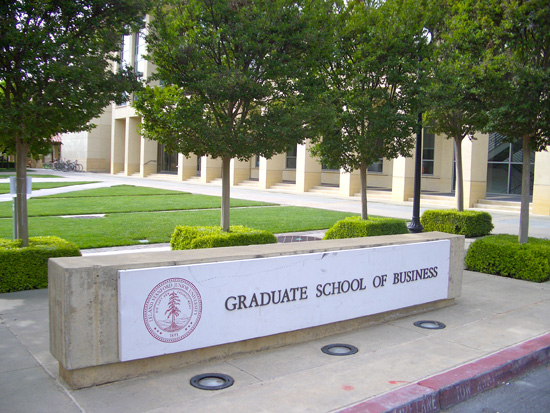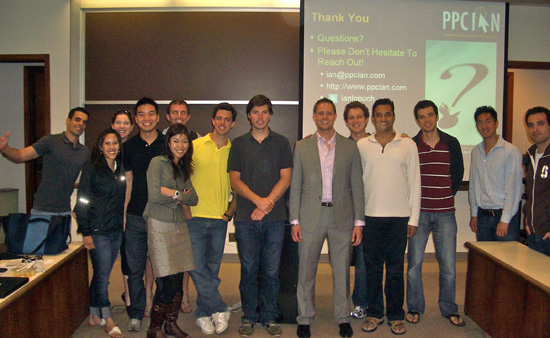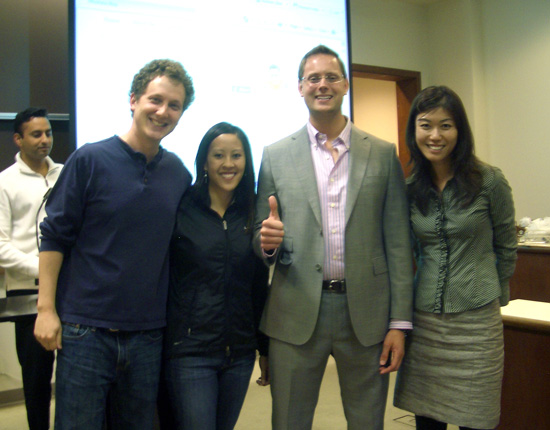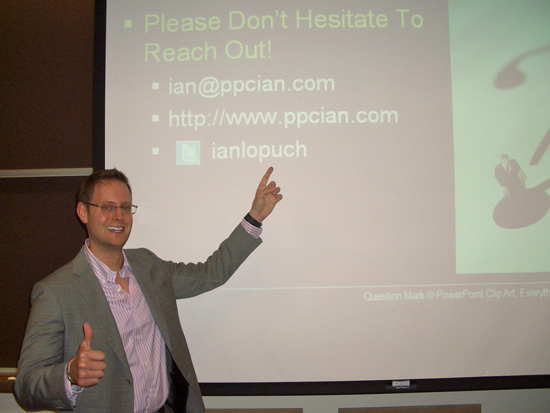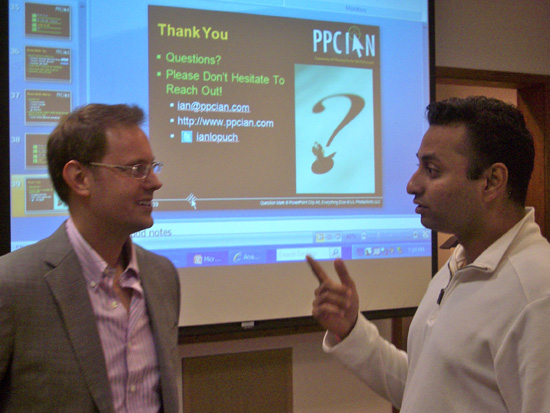 All Images In This Post © PPCIan.com (An IJL Productions LLC Website)