I'm a huge fan of domain names and now own several hundred domains across the dot com, dot net, dot org, dot me, dot us, dot co, dot biz, and dot info extensions. I also own over 100 developed websites across these same TLDs. Domains are the real estate of the future and one of the best investments around, in my opinion. I recently got an excellent question from a PPC Ian reader, Anthony, which I paste below.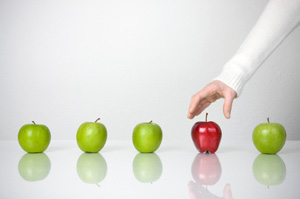 Hello Ian,
I came by your site via a dot co article you wrote some time ago. I am in the process of deciding wether to purchase a .co or launch a site under a .info, which the article was critical off. How has you experience been with .co, have they ranked well?
Any advice would be welcome.
Thanks,
Anthony
The post Anthony is referring to is my piece titled Dot CO Domain Names Rock. I'm thrilled to answer Anthony's question about dot info and dot co domains in today's post.
PPC Domain Names
The first point I want to call out here is the difference between PPC (pay per click) versus SEO (search engine optimization). If you know up front the domain will be primarily used for paid search, you will have a lot more flexibility. If you're building a PPC only site, you can really build it on any TLD you'd like.
My main advice for paid search domains: Make sure they are keyword rich. If the keywords you're buying are in the domain, your display URL will display bold, which in turn helps you earn a higher CTR. These days, keyword rich domains are table stakes in paid search (unless you already have a hugely recognized brand name within your industry). Of course, I always prefer an exact match dot com. Those, however, can be pricey. Quinstreet, my old employer, recently purchased CarInsurance dot com for a cool $49.7 million (domain name plus existing business). By contrast, your going to be able to pick up the same name with a dot me or dot co TLD for considerably less.
In sum: Get the best, keyword rich domain you can find for PPC. Don't worry as much about TLD as long as it's one of the big ones mentioned at the top of this article. Want to learn more about paid search domains? Check out my article all about PPC Domain Strategies.
Best SEO Domain Names
Let's now look at domains for SEO (or for a hybrid PPC and SEO strategy). First and foremost, I've had success with all TLDs in SEO, some more than others. Of the second tier domains, dot us, dot me, and dot co are my favorites when I just can't get the dot com dot net, or dot org (although I'm less of a dot org fan versus dot com and dot net).
There are really two point that go into this. First, I have found that search engines have a higher affinity for certain TLDs, with dot com and dot net topping the charts on Google. On Yahoo, dot com, dot net, and dot us rank the quickest and the best. You might pay more for these domains but they will rank quicker and higher, helping you recoup your investment.
Second, SEO is all about branding these days. Build a great brand and you will do quite well. Gains are exponential so I'm really focused on my top sites and recommend a single site strategy (or handful of sites strategy). I personally own over 100 active websites, but that's because I love testing new stuff and I'm addicted to big numbers (even though this might not be the best financial decision). In my experience, it's much easier to build a brand on a dot com or dot net domain. Therefore, if Anthony is going for an authority SEO site, I'd recommend going after a good dot com or dot net. (Side note: Check out my guide for Buying Domains on Sedo. This will come in particularly handy when buying high quality domains on the aftermarket.)
A quick distinction: While my bias is dot com, dot net, and sometimes dot us for authority SEO sites, I'm much more flexible when it comes to smaller minisites. In the case of minisites, I'd consider all the domains listed in the intro and definitely rank dot co ahead of dot info. Dot co has a ton of marketing dollars behind it and is a hot TLD right now. It screams ©commerce" and &quote;commercial", making it perfect for most sites. Dot info is regarded as a cheaper domain name and has many questionable sites on it due to its ultra-cheap price for the first year on GoDaddy.
Intent of The Domain Name
I'd like to close out today with one last word of advice: Buy the TLD that most closely matches your business. Let's say your are going to build a pure, informational site. In this case, dot info could make sense. Let's say on the other hand, you are building a site for a non-profit organization. Of course, dot org makes the most sense. Let's now say you are building a personal blog. In this case, dot me might be best. Last, dot us makes a ton of sense for sites that are strictly about the United States. I've had a ton of success with finance-oriented sites on dot us. I'm a huge fan of making sure my website strategy aligns with the true intent of the domain TLD.
As you can see, there is no clear answer since there are so many sub-questions that go into choosing the right domain name. The best news: The opportunities in domain names right now are unparalleled. My closing advice is to really think it through, but at the same time just go for it! The sooner you start, the quicker you will achieve success!
Image of red and green apples © iStockPhoto – pederk