If you've been reading PPC Ian for a while, you know that I always enjoy writing about my goals for the new year. Here are my goals from the past few years: 2010, 2011, 2012, and 2013. Wow, that's a lot of goals! You may be wondering, where are PPC Ian's 2014 goals? This year has been super busy so far, and I've been thinking about my goals behind the scenes. I'm a little late this year, but it's never too late… Today, I'm thrilled to share my 2014 goals.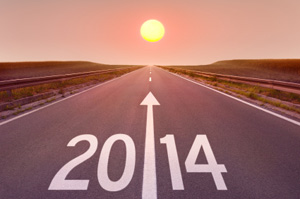 Before I get into the specifics, I wanted to first share my thoughts around the importance of having goals and documenting them. First and foremost, it's important to have goals. All of us can improve. There's always more to accomplish. There's always more you can do, both in business and live. Never settle, always keep building. Second, it's important to document your goals. Personally, I refer back to these posts about my goals regularly. My goals posts are not only for my readers but also for me. They are a great reference point to make sure I'm on target. Moreover, the written word is extremely powerful. Writing down your goals (via blogging or on paper) is a powerful way to solidify your goals in your mind, and get you one step closer to achieving them. So, if you have not created your 2014 goals yet (and/or have not written them down yet), you are not too late. We're still in January! Without further ado, let's jump into PPC Ian's 2014 goals…
Goal 1: Empower and Grow Careers in Marketing
I've built my career and blog on the premise of empowering and growing careers in marketing. Each and every day, I strive to help those on my team, those on their teams, colleagues, leadership, partners, friends, family, and really anyone I interact with. Positivity, encouragement, assistance, and teaching goes so far. Invest in others and you make your company and the world a better place. I've written about this particular goal at length over the years, so I'm going to keep it short. The one sub-goal I wanted to highlight, however, is one I'm borrowing from last year's list: Help at least five people every single day. And, one I'm adding to the list: Inspire at least two people on my team to take on the same goal of helping at least five people per day.
Goal 2: Invent At Least One New, Major Marketing Strategy/Channel
I had this same goal in my list last year, and it came true, two-fold. I truly believe in the power of the written word. I also truly believe in the power of innovation. Customer Acquisition Marketing moves so quickly. How do you stay ahead? Innovate, innovate, innovate (and optimize, optimize, optimize). I'm looking forward to another major, new marketing strategy/channel this year (new to me/my company)! Each year, I raise the bar and try to push myself, my team, and our industry forward.
Goal 3: Focus On High-Leverage Cash Flow Opportunities
As a Customer Acquisition Marketer, I'm always looking for the best ways to acquire quality customers at the lowest possible price. I'm looking for stability, and take a conservative approach. When you manage a large (or really any) marketing budget, it's important to have a very conservative, thoughtful, and analytical approach. Every penny needs to be treated like pure gold.
When it comes to my personal life, I extend these same values. One thing I'm passionate about in my spare time is the overall goal of generating cash flow and income streams. For example, I've written extensively in the past about LendingClub as one potential income stream and source of cash flow. Here are a few of my favorite Lending Club posts on PPC Ian:
(Side note: If you sign up for Lending Club via my affiliate link, I will be truly grateful. Such affiliate commissions help me pay the expensive fees associated with running PPC Ian.)
Whether it's Lending Club, building affiliate websites, or any other strategy, I'm a fan of cash flow and passive/mostly-passive income. As someone who works incredibly hard and has very few free hours (maybe just a handful each week), you'll find me spending a portion of my very limited free time in 2014 exploring high-time-leverage cash flow opportunities. I have been achieving great results via Lending Club as just one example, and will be blogging about them in a future post.
Important Note: I'm not a financial advisor and this is not financial advice. Please consult your own financial advisor before making any investment decisions.
Goal 4: Participate In a Huge Speaking Opportunity, The Largest of My Career
I'm excited about this one! Public speaking is a true rush. It's also a true honor and opportunity to help others. In 2013, I really enjoyed Speaking At Search Insider Summit. This year, I already have a major speaking engagement on the books. In fact, this is going to be my biggest one ever. I'm taking this opportunity with such seriousness and dedication, I cannot wait. I can't say too much, but some of my favorite friends from Rocket Clicks Digital Marketing Agency know what I'm talking about.
Goal 5: Connect With Amazing People Who Inspire, Find Ways To Work Together
I love blogging because it offers an opportunity to meet and connect with amazing people, both online and offline. A fun example: I was at the Marin Masters conference (put on by my good friends at Marin Software) and was given a shout out as "PPC Ian" in front of the entire audience. This was a fun example of online meets offline; the event became an amazing opportunity to network and meet amazing people who inspire.
There are so many amazing bloggers out there doing great stuff. As a fellow blogger, I always take the opportunity to leave a comment, introduce myself, and say "hi". Some examples of people who inspire me who I've met via blogging: Jason from Dividend Mantra and Morgan from MorganLinton.com. My goal this year: Forge friendships with great bloggers and leaders, both online and offline.
Goal 6: Deliver "Backyard Blogging" Videos and Innovation on PPC Ian
This is one of my favorite goals, and one of the reasons I'm writing this post a little late. As you may have noticed, I've been super busy uploading a lot of video blog posts here on PPC Ian. I'm especially thrilled about my "Backyard Blogging" series, where I shoot casual, fun videos about business, life, and marketing from my backyard. When it comes to PPC Ian, video is one of my biggest goals this year so make sure to subscribe to my YouTube channel. Here are some of my recent videos:
This is going to be a huge year of video. Additionally, I'm looking forward to exploring some other concepts here on PPC Ian to keep things interesting, and push my content to the next level. An idea I've been thinking about: A PPC Ian comic strip. (This idea was inspired by a comic strip my friend Jason Thomspon used to do back in the day.) Stay tuned, cool stuff coming this year!
Goal 7: Spend Time With My Wife, Family, and Friends
With an ambitious list of goals, it's always important to keep the right perspective on the big picture (this goal and the next one). While my goals are ambitious, it's all about efficiency. I need to remember to work hard and smart, and spend a lot of fun times with Nicole, family, and friends. At the end of the day, I work hard so that I have time for loved ones. (Side note: Nicole is doing amazing stuff, and don't be surprised if you see a guest blog post here on PPC Ian from Nicole, and also some other exciting announcements.)
Goal 8: Workout At least 4x/Week
I've been a bit lax about this goal recently, but the new year is just getting started. My goal this year is to workout at least four times per week. Workouts can be cardio, weights, or a combination of the two. My particular strategy this year is not just about the typical gym workout, it's about variety and making it fun. The perfect example: Check out my recent YouTube Video About Hiking and how it can clear your mind/help you brainstorm new ideas. Nicole and I are so excited to hike all over the beautiful Bay Area in 2014.
Goal 9: Donate Time and Money To Charity
I like listing this goal last because it ties together well with my first goal of empowering, educating, and helping others. Nicole and I keep raising the bar each year. We achieved our goal of donating a record amount to charity in 2013 and hope to do this again in 2014. It's all about giving back. We are so fortunate here in the SF Bay Area, let's do what we can to help others!
If you've made it all the way to the end, I truly thank you. I know this is a long post, one of the longest I have written in a while. I thank you for your support. Any special and exciting goals on your end this year? Please do share!
Important Note: I'm not a financial advisor and this is not financial advice. Please consult your own financial advisor before making any investment decisions.
Image of 2014 goals © iStockPhoto – Rasica