It's one of my 2012 Goals to save money and invest wisely. Where have I been investing my savings? Several places including stocks, my savings account, and the topic of today's post – LendingClub. I've already written two exciting posts about Lending Club that you may wish to check out:
Today, I'm thrilled to share greater context behind my overall Lending Club strategy, how I personally pick Lending Club loans. Without further ado, here's how I pick Lending Club loans worthy of investment.
Rule 1: Don't let Lending Club pick loans for you. Rather, click the little link to "browse notes" so you have full control over the precise notes in which you invest. How do I sort through the notes? Check out the next few bullet points!
Rule 2: Invest in notes that don't have many days left in their funding cycle. The more days you have your cash sitting around, the less interest you will earn. Also, loans closer to becoming fully funded are typically of higher quality (in my opinion). Why? Partially funded loans can always be reviewed by Lending Club staff and get rejected. If they're closer to being fully funded, it's likely they've been reviewed and are good loans. Moreover, you're taking advantage of the collective intelligence of other investors. Go to the popular loans.
Rule 3: Invest in low dollar amount loans. It's a lot easier to pay back a $3,000 loan versus a $30,000 one. Generally, I feel like those taking out smaller loans have a more targeted, specific need for the money. They are more likely legit people. I get a bit concerned when folks are taking out major loans. As such, I'm sticking with small loans these days.
Rule 4: Go with "A" and "B" loans. I'm a conservative investor and want to minimize loan defaults. I feel that it's essential to stick with the top-rated loans to achieve this goal.
Rule 5: Stick with debt refinance loans. It's a simple equation: You take a high interest rate and consolidate your debt into a lower interest rate with Lending Club (bypassing the middle man). As compared to loans for other purposes, I just feel safer going with debt refinance loans since they're all about saving someone money and reducing their monthly expenses (as compared to increasing their expenses, the case with other loans).
These tips are definitely not the only criteria for evaluating Lending Club loans, but definitely should provide a great starting point. My strategy is constantly evolving and these rules mark some of my latest thinking. Do you invest in Lending Club? Any special strategies for investing in Lending Club notes?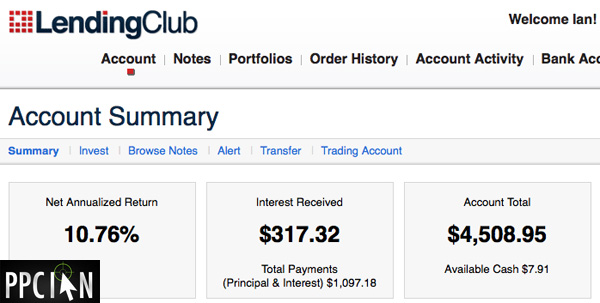 Important Note: I'm not a financial advisor and this is not financial advice. Please consult your own financial advisor before making any investment decisions.
Image in this post © PPCIan.com