Happy 2011! It feels like I was writing about my 2010 goals just yesterday. It's truly amazing how quickly 2010 flew by. Looking back at my 2010 goals, I totally crushed them. Why? Two reasons: First and foremost I worked really hard. Second, I wrote them down. That's right! I'm a huge proponent of writing your goals down. When you write them down, it's a lot more likely they will come true. To that end, I have my biggest and most important goals written down on a small piece of paper that I carry around in my wallet everywhere I go. Moreover, I'm excited to write down my shorter term goals for 2011 in today's blog post. I couldn't be more excited and I'm wishing you a great and prosperous 2011!
Goal 1: Continue To Set Myself Up For Vice President of Marketing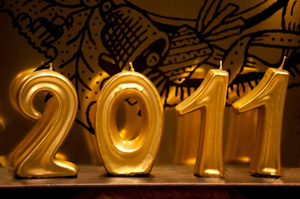 I wouldn't be PPC Ian if I didn't place my corporate online marketing career at the top of the list. After all, I'm the biggest advocate of the corporate online marketing career path around! I'm Director of Search Marketing at a large, public company, and I have my sights set even higher. 2010 was all about preparing myself for VP of online marketing. And, I did just that. 2011 marks more of the same, getting even closer to my goal of hitting the VP level. I couldn't be more excited, the opportunity in the corporate online marketing world is unparalleled.
Goal 2: Grow My Affiliate Marketing Revenue By 5x
2010 was a great foundational year. I had the original goal of launching 6 websites, but I actually ended up launching about 80. It was truly crazy! Moreover, the original sites I launched in 2007 are firing on all cylinders. In short, I had a record year in terms of affiliate revenue. However, I'm setting my goals much higher for 2011 because I've figured out a system that works and have the history and foundation in place to make it happen. As such, I'm going for it: I want to 5x my affiliate marketing revenue (on a run-rate basis) by the end of 2011.
Goal 3: Focus On Fewer Websites
Goal 3 really ties into goal 2. 70% of my affiliate marketing revenue comes from my top website. If I want to scale my affiliate marketing revenue by 5x, I truly need to focus on my top websites because they offer leverage. In short, I want to focus on this top performing website and PPC Ian, spending no more than 10-20% of my affiliate marketing time (which is very low) on any other sites.
I'm writing this goal out because it's going to be very difficult. I'm obsessed with domain names and have many in my portfolio with huge potential that are just waiting to be developed. I love developing new websites. However, this year it's going to be all about focus in hitting my big goals. Also, I plan to rely on smart outsourcing to continue to develop my other websites with scale and efficiency.
Goal 4: Half Marathon, Here I Come
I really got into fitness and running in 2010. My wife and I consistently met with our personal trainer each and every week. Moreover, we consistently went to the gym and running. I'm in the best shape of my life. I even wrote on PPC Ian about how I ran the 5K San Carlos Fun Run. By the end of 2010, I built up to the 10K and ran two of them. 2011 is my year to run the half marathon and start building up to the full marathon. Running is so much fun: I come up with my best Internet marketing ideas while running.
Goal 5: Great Vacations With My Wife
It's so easy to get caught up in the online marketing game. Between my amazing job and my affiliate marketing business, it's easy to forget the big picture. Internet marketing is fun and addictive. In terms of keeping my eye on the big picture, I'm planning to take a multitude of great vacations with my amazing wife this year. The two at the top of our list include Hawaii and Las Vegas. We'll probably end up going to Las Vegas multiple times. Fun times ahead!
So there you have it: My 2011 goals. I have them written down and now it's time to start working towards them. What are your 2011 goals?
Image of 2011 Goals © nievesm