Happy new year! 2013 is officially here and it's time for my 2013 goals post. It's a long standing tradition here on PPC Ian to blog about my goals for the new year. (You may want to check out my: 2012 goals, 2011 goals, and 2010 goals.) These posts really help me document my aspirations for the new year so I'm able to stay on track and strive for excellence. I try to keep my goals attainable, but still a stretch. Typically, I do not hit all of them (within one year), but I have a great track record of hitting most of them (and a super high percentage of them if you project out more than one year). I feel that if I'm hitting all my goals within the year, I'm not pushing myself hard enough. I hope you enjoy reading this post as a way to spark your own goals. I truly feel that documenting goals on paper (or via blogging) is a critical step in achieving your dreams. Here's to an amazing 2013!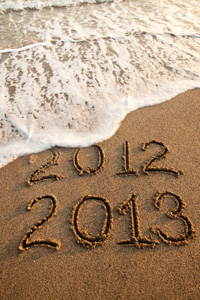 Save money and invest wisely.. This was also my number one goal for 2012. While I accomplished this goal in 2012, it's not the type of goal that is over after one year. Saving money and investing wisely is a lifestyle. It requires many years of persistence to truly get the momentum building in your favor. As such, I'm going to be watching every expense very closely and hunting down passive income vehicles (such as dividend-paying stocks) every single day. Specifically, I'm looking to grow the amount of money I have invested in dividend paying stocks by at least 20%.
Help others and build careers. In 2012, I got promoted to VP. This was one of my longest standing goals. I view my role as the greatest honor and responsibility. At my company and also within the industry, I will strive every single day in 2013 to help others. Whether it's via this blog, public speaking, 1-on-1s with team members, dinner with partners, or just about any other avenue, I'm going to do everything I can to motivate and empower. In terms of making it specific, I will help at least 5 people every single day, in a big way.
Invent a major new marketing strategy. I love online marketing and the marketing field overall because it's all about innovation. I enjoy pushing myself to the limits. This year, I want to invent at least one major new marketing strategy (new to me/my company).
Continue to grow my offline marketing expertise. I'm all about pay per click and online marketing. When it comes to online marketing, I have 8+ years of experience. In more recent years, I started getting into offline marketing in a major way. I have built some great expertise across several offline marketing channels and am always learning more. In 2013, I want to deepen my offline marketing expertise and invest at least a few hours each week building my marketing toolkit.
Optimize, optimize, optimize. I just wouldn't be PPC Ian if I wasn't thinking about optimization. All day/night, I'm thinking about optimization from a PPC standpoint. However, this goal also ties into my life. I'm looking forward to optimizing my time (get more sleep, and more effective sleep), optimizing my workout schedule (getting out there and working out 4 days/week, one of the goals I did not hit in 2012), organizing our home and making better use of the space (a project Nicole and I are working on right now), optimizing my commute (trying different times to get to/from work as quickly as possible), really finding any and all ways to get even more out of life. I'm a big fan of optimization and 2013 is all about optimizing everything.
Match or potentially exceed our 2012 contribution to charity. Nicole and I donated a record amount of money to charity in 2012. We truly believe in helping others and get a thrill out of giving back. I'm not sure if we will exceed our 2012 contributions this year since we need to balance this goal with the saving/investing goal (which would allow us to donate maximum money long term). That said, we will strive to match our 2012 contribution.
Visit Hawaii. My wife, Nicole, and I love Hawaii. It's one of our favorite places in the world. We try to go every year. (Here's a fun post about our 2011 Maui Vacation). In 2012, we took a multitude of smaller trips, but no major vacation to Hawaii. Why? We got super focused on work (which is a good thing since we love our jobs). In 2013, we are already planning a vacation to Hawaii.
Invest in family and friends. It's all about the big picture. I like to keep this goal on my list each year because it's easy to get focused on work, blog, business, and investments. However, it truly is all about the people in your life. I'm going to make sure to take time for fun times with family and friends.
I could not be more excited about 2013. What are your goals for the new year!
Image of 2013 © iStockPhoto – A-S-L