If you've been reading PPC Ian for a while, you know saving money and investing wisely is my number one goal for 2012. When it comes to investing, I'm a huge fan of dividends and also interest income. Today, I'd like to highlight one of my favorite places to invest: LendingClub.
My Personal Lending Club Account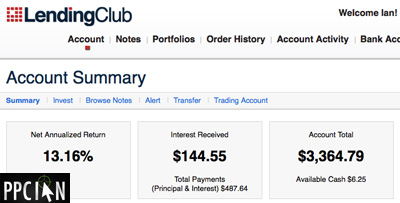 Check out the screenshot to the right, that's my personal Lending Club account. I started investing in August, 2011. Since then, I have been contributing money on a regular basis. All my investments have added up and I currently have $3,369.15 in my account. My net annualized return is 13.06%. That's right. The same money in my savings account (or even high yield savings account) would be yielding less than 1%. Lending Club is bringing in a huge 13.06% return, sweet!
What Is Lending Club?
So what is Lending Club? It's a really cool platform that facilitates peer to peer lending. Lending Club finds people who need to borrow money. A good amount of the borrowers need to borrow to consolidate credit card debt at a lower interest rate. They screen the individuals, assess their risk bucket, and then allow them to borrow money from Lending Club investors (like me). Bypassing the middleman (banks), Lending Club makes the borrowing/lending process much more efficient. Lending Club means better interest rates for borrowers and better interest rates for investors. Finally, investors like myself get to taste the good life like the big banks who have been making so much money all these years.
Diversify Across Many Lending Club Notes
Here's my personal strategy: Lending Club lets you invest as little as $25 in each note. Therefore, I invest in as many notes as possible to spread my risk around. If any one note doesn't work out, I don't sweat it at all. I'm currently invested in 143 notes, with two more in funding. So far, four of my notes are fully paid and one is late by 16-30 days. I'm well diversified!
My Special Tip: Diversify By Time
In addition to diversifying across many notes, I also like to spread my risk by time. This is a unique strategy that I haven't seen anywhere else when it comes to Lending Club. I'm talking about investing incremental amounts of money over time. I try to invest a few hundred dollars here and there. Since August, my investments have added up to a large amount, but it wasn't always that way. By investing incremental amounts over time, I have hedged my risk even more in case loan default rates are linked to any one range of dates. If you sign up for Lending Club, I recommend this very strategy. Start small (maybe as little as $25) and add more and more money over time!
Start Now: It Only Takes $25 To Open An Account
At the end of the day, Lending Club is fundamental in my goal of saving and investing wisely. Also, it's helping me give back to others (another one of my top goals this year). I'm lending money to people like you and me who need help. If you're interested in earning a high interest rate, I highly recommend checking out LendingClub. It only takes $25 to start and invest in your first loan!
Important Note: I'm not a financial advisor and this is not financial advice. Please consult your own financial advisor before making any investment decisions.
Image in this post © PPCIan.com