The weekend before last, Nicole and I visited Las Vegas. We both work extremely hard, basically around the clock. Lately, our careers have been super busy, but in a good way. As such, it was a very well deserved vacation for both of us! The corporate world of marketing is an intense career path and everyone deserves a break, once in a while. Such vacations are the perfect way to recharge and come back more empowered and productive than ever before.
After visiting Las Vegas back in 2011 (check out my 2011 Las Vegas Recap), we decided to return to the MGM Signature Towers. It was my third time to The Signature, and Nicole's second. This time, we stayed four nights: Thursday, Friday, Saturday, and Sunday. We're certainly happy we extended the weekend as long as possible, and will definitely do this again next time. Instead of going home Sunday night, we enjoyed the extra day and went home (super) early Monday morning.
The Signature offers a variety of benefits. It's a quiet non-gaming condo hotel, meaning the hotel is clean and smoke/noise free. It's connected to the MGM Grand so you can easily enjoy all of the benefits of that major gaming hotel. Signature guests have access to pools at The Signature and at MGM Grand. And, the rooms are really nice, complete with whirlpool bathtubs and many with balconies.
This time around, we lucked out and got an Upper Penthouse Suite on the top floor, floor 38. Our suite faced the Las Vegas Strip and you can see a picture of me on the balcony to the right/below. We checked in late Thursday night and then ordered some room service. It was better than we had remembered, a great start to our Las Vegas Vacation!
After waking up the next day, we decided to head over to the Bellagio Cafe for lunch. I'm a huge fan of the Bellagio hotel, and enjoy the cafe quite a bit because of its placement in the conservatory. After lunch, we walked around the Bellagio conservatory and took some great pictures. You can see one of them to the right/above and another at the end of this post. We enjoy the beautiful conservatory each time we visit Las Vegas.
Next, we went around to a few different casinos. I had not yet visited the Cosmopolitan so we went over there and joined the Identity program, the player's club at the Cosmopolitan. We gambled a bit and then headed around to a few other casinos. You can see a fun picture of Nicole in a shoe at the Cosmopolitan to the right/below! After a long day of gambling, we went shopping at The Miracle Mile shops and ate dinner there too. Day one was quite the fun day of sight seeing, dining, shopping, and gambling.
The next day, we slept in and then headed over to the buffet at MGM Grand. We got buffet passes for free as part of our deal with The Signature. The buffet was really great, with more food than you could imagine. I have been to Las Vegas so many times over the years, more than I can count, but surprisingly enough this was my first time at a Las Vegas buffet! Next, we headed over to the MGM Grand pool. It was busy, but we were lucky enough to get some really great lounge chairs near the pool. We enjoyed some really great frozen drinks and relaxation at the pool. Day two ended with some really fun times at Tournament of Kings, the medieval dinner/show at The Excalibur. The food there was really good, a true feast!
Day two was so much fun that we decided to repeat it on day three. We started out with the MGM Grand Buffet and then went to the MGM Grand pool. It was 105 degrees out, perfect pool weather. After a fun day at the pool, we enjoyed dinner at the Rainforest Cafe, and then did some shopping. Instead of heading home on day three, we stayed an extra night so we could fully enjoy day three, a very smart move. The next morning (Monday morning), we got up really early and took the first flight out of Vegas back to the Bay, just in time to head back to work. Vegas was a ton of fun and we can't wait to go back soon! Do you like to visit Las Vegas too?
More Pictures From Our Las Vegas Vacation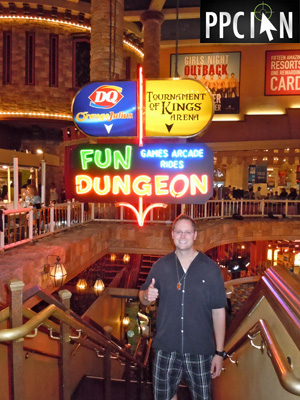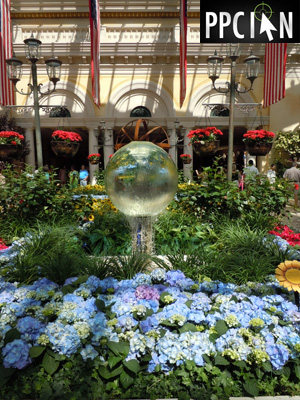 All images in this post © PPCIan.com