While I first started developing my own websites for profit in 2007, I got my first taste of buying existing websites in June of 2008. Back in those days, before Flippa existed, BuySellWebsite.com was the place to buy and sell established websites. In June of 2008, I ended up buying a nice little AdSense website for $2,500 (plus a $20 wire fee and a $81.25 Escrow.com fee) for a total of $2,601.25. Just a few years later, that website has yielded $3,825.40 in AdSense earnings alone (I also received extra earnings from direct advertisements). On AdSense alone, that's a yield of 147%. Since then, I've made building websites and also buying established websites a huge part of my passive income plan. I'm here to say first hand that buying established websites is a great way to make money online! Of course, selling websites (for more than you paid) is also a great way to make money, but I'm more of a cash flow kind of guy so I'm holding my websites for the long haul.
Flippa Makes It Easy To Buy and Sell Websites
Thankfully, these days it's a lot easier to buy and sell websites for profit. There's a new marketplace called Flippa that makes the process far easier than when I started back in 2008. It's my firm belief that anyone reading my blog can make thousands, like I have, buying and selling websites. That said, the marketplace is also more competitive now so you really need to know what you're doing. Don't worry! There's a brand new 147 page eBook that guides you through the process step-by-step. I'm talking about Zac Johnson's Flip This Website.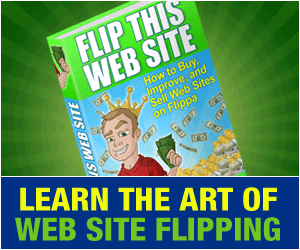 I Bought Zac Johnson's Guide and It Rocks
Have you heard of Zac Johnson? He's a super affiliate and owns one of the top affiliate marketing blogs on the Internet. Over the years, Zac has literally earned a fortune with affiliate marketing. I regularly frequent his blog and have a ton of respect for Zac. It's for this reason that I knew Zac's eBook would totally rock. I personally purchased Zac's eBook (screenshot at the end of this post showing my ClickBank receipt) and couldn't be more pleased with my purchase. For only $33.49 (temporarily on sale from $67), I'm armed with 147 pages of amazing information, from the king of Flippa. Moreover, I've got 6 bonus videos at my fingertips too.
After reading Zac's book, I'm now ready to buy more websites in 2011-2012 than ever before. Web development takes a ton of work, I'm ready to scale my SEO affiliate earnings quicker than ever before with my new Flippa tips and strategies.
Buy Zac's Guide From PPC Ian and I'll Reward You
If you're serious about Internet marketing (whether you have a corporate job like me or are a full time affiliate marketer), Zac Johnson's Flippa Guide is a true must have. At only $33.49, you are getting an invaluable education for next to nothing (I'm surprised it's on sale for this price). Now, here's where things get interesting! This just wouldn't be PPC Ian if I didn't reward you guys. Remember when I promoted Keyword Winner and ran a Keyword Winner Contest where I reviewed the blogs of PPC Ian readers who purchased via my link? (By the way, you can see here the Keyword Winner Contest Winners.) Well, I'm at it again!
Buy Flip This Web Site via my affiliate link and I will feature your website or blog right here on PPC Ian. I will write a few sentences about your blog or website and also provide a link to you as well. All you have to do is purchase Zac's guide via my link before July 31st! I'll be featuring the winners in early August. In my opinion, the $33.49 is worth it just to get featured here on PPC Ian, a leading online marketing blog that gets over 1,000 visitors/day. It's just my way of rewarding PPC Ian readers (I truly can't thank you all enough) while spreading the word about a product I truly believe in. After you purchase Zac's eBook via my link, simply email me your ClickBank order number and website or blog you'd like reviewed (family friendly sites only).
Want to learn a bit more before buying? You can see the table of contents from Flip This Website below:
Introduction
My Story
Overview: The Three Business Models
Flippa: The eBay of Web Properties That You Can Trust
Chapter 1: What You Should Watch Out For When Buying Domains and Websites
Chapter 2: Introduction to Flippa
Chapter 3: Buying and Selling Web Sites with Flippa
Chapter 4: How to Build Your First Site to Eventually Sell on Flippa
Chapter 5: Promoting and Outsourcing Your Web Sites
Chapter 6: Next Steps – 3 Action Plans for Your Business Model
Blogging Tips: The Before, During & After Process of Buying a Web Site
Flippa Case Studies
Interview with Matt Mickiewicz
Your Gift: Free Flippa Credits to Get Started
20 Memorable Flippa Sales
Web Site Flipping Resources
A Final Word on Web Property Flipping
BONUS: The Mini Niche Web Site Guide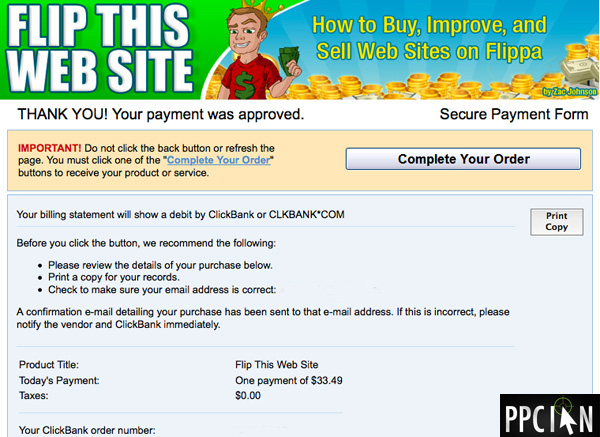 Ad for Flip This Web Site © ZacJohnson.com
Screenshot of ClickBank order © PPCIan.com