Recently, I wrote about how my Epik affiliate earnings are up (quite a bit). That post generated a lot of interest in the Epik platform and I quickly got the question: Ian, how much are you making with Epik? Can you share your earnings like you did for eBay and Commission Junction? Today, I thought I'd follow up on my previous post and answer this question with real numbers!
I'm Earning $3,544/Year On My $15,000 Investment (24% Yield)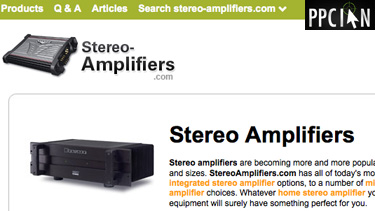 I own 55 Epik Product Portal websites. Most of these product portals are brand new websites. They're domains I've acquired within the last few years that I decided to develop on the Epik platform. Others are websites I acquired from Epik (such as Stereo Amplifiers, portrayed to the right). All of my Product Portals have custom articles (2 per site) and most have custom header blurbs too (on each sub-section of the site). I spent a ton of time and money building the best content possible because it's all about user experience at the end of the day. I'm building quality sites that truly benefit the Internet and always recommend over-investing in great content. Between domain registration fees, development fees, acquisition fees, and article outsourcing fees, my total cost is $15,000.
Now, let's look at the revenue side of things. Here are my earnings over the last four weeks:
6/29-7/4: $113.09 revenue
7/5-7/11: $188.63 revenue
7/12-7/18: $123.14 revenue
7/19-7/25: $118.88 revenue
TOTAL: $543.74 revenue
Now, $543.74 divided by 28 is $19.42/day. $19.42/day times 365 is $7,088 revenue/year. However, until you're earning more with Epik, the rev share is 50/50. (You can read more about the Epik revenue share tiers here.) So, my take on the revenue is $3,544/year. As a side note: I'm very happy with Epik's rev share model, it's quite generous. Moreover, Epik is a true partner and without the Epik team my sites would not be where they are. The rev share is worth every dollar!
Personally, I feel that my revenue is going to come in much higher. Why? Most product shopping happens in Q4 (holiday shopping season). My earnings should jump up during that time! However, I like to be conservative in my financial modeling so let's just say my annual revenue is $3,544 based on the last 4 week's data. (Also, I am not factoring in my annual domain renewal fees of approximately $500 but again that should be hugely overshadowed by my holiday season earnings.) $3,544 divided by my $15,000 cost is a sweet 24% yield!
My Epik Yield Is Unparalleled In Other Investments
I'm a huge fan of cash flow and invest in all sorts of investment vehicles that offer cash flow. I'm talking about dividend-paying stocks, websites (both build from scratch and also buy established websites), and more. Very few investments return a 24% annual yield within the first year of the venture. In the stock market, even if you buy the high yielding tobacco companies or telecom companies, we're talking about an yield in the high 5% range.
I'm not counting capital appreciation here but I'm not counting that for my Epik Product Portals either. Come to think of it, the capital appreciation with Epik Product Portals is much higher than stocks. Why? Sites like Flippa are heating up and it's a hot market for income-producing websites right now. Just check out my last post about Zac Johnson's eBook.
My end conclusion: Epik Product Portals are one of the best investments around. The websites are truly useful and are making the Internet a better place. I'm finding that by partnering with Epik, I'm earning extremely high yields with scale. My future includes many more Product Portals as I plan to expand my portfolio to well over 100 Product Portals over time.
Get Started For Just $224.10 With My Epik Coupon Code
Want to give it a test? Your first Product Portal will only cost you $224.10. The regular price is $249, but you get 10% off with the exclusive PPC Ian coupon (PPCIAN10). Click here to get started with Epik! Anyone else out there developing sites on Epik? I'd love to hear your experience. Want to learn even more? Below, I link to some of my other posts about Epik:
Image in this post © PPCIan.com