From time to time, I enjoy running contests on PPC Ian to reward you – my loyal readers! You may recall back in 2010, I ran a blog commenting contest. (Make sure to check out the top commentators.) Earlier this year, I ran a Keyword Winner 2.0 contest. (You'll definitely want to check out PPC Ian readers who are now using Keyword Winner just like me.) Most recently, I purchased Zac Johnson's Flip This Website eBook and couldn't put it down. It's one of the best eBooks of 2011, in my opinion. As such, I decided to run a little contest. Since I knew many fans of PPC Ian would be buying this eBook anyways, I decided to feature and review PPC Ian fans who purchased Zac's eBook via my affiliate link (during the month of July). Today I'm thrilled to feature and review the two winners of my contest.
PPC Ian Reader #1: Nima.co

This first review is easy. As you may know, I'm a huge fan of domain names (I own hundreds of them) and dot co. Site number one is Nima.co. Nima.co is an amazing blog all about domain names. Nima Jacob Nojoumi, the author of the blog, is my personal friend and a leading authority within the domain name industry.
I recommend starting out by reading the about me page on Nima.co. You will quickly see that Nima Jacob Nojoumi is really legit. I'm most impressed by the fact that he was promoted six times at one of the leading Internet companies around and also that he owns his own business, Venture Media, LLC. Venture Media owns premium domain names and also physical real estate properties as well – sweet.
Nima.co is full of value. While the blog is focused on domain names, there's also an excellent mix of general Internet marketing posts as well. Some of my favorite posts include: Google Algorithm Change, Overcoming Complacency, and Domain Appraisals. Domain names (especially developed ones that drive cash flow) are one of the best investments around, in my opinion. Check out Nima.co today to learn more!
PPC Ian Reader #2: GlobalOneTechnology.com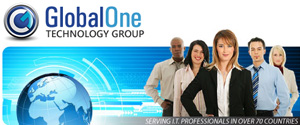 Site number two is Global One Technology. I am really impressed with Global One Technology. They are a leading seller of HP Server Parts, have been in business since 2003, and have over 12,000 customers. As you can see from their about us page, Global One does business in all 50 states, and over 70 countries on six continents – that's quite the impressive operation.
In terms of specific products, Global One Technology offers HP Server Hard Drives, HP Server Memory, HP Server Processor Kits, and so much more. Literally Global One Technology Offers any HP Server part you could ever want. To make sure your order goes perfectly, Global Technology One offers live chat and also an impressive help center.
I'm a huge fan of social media so I was particularly excited to see Global One Technology on both LinkedIn and YouTube. Check out Global One's LinkedIn and Global One's YouTube today. If you're ever in need of server parts for HP servers, you now know where to go!
So, there you have it. Two new awesome websites to check out. Thanks so much for reading and stay tuned for future contests and promotions. I'm always looking for ways to reward loyal PPC Ian readers. Thanks for your support!
Images in this post © Nima.co and GlobalOneTechnology.com