Google is on a roll – 2011 is a year of change when it comes to AdWords. I'm talking about front end changes that directly impact user experience. Just a few recent examples: Six Sitelinks In Paid Search, Light Blue Google Search Results, and AdWords Megatitles. Today, I'm thrilled to blog about a few recent changes to Google AdWords display URLs and how you can benefit from these changes.
AdWords Display URL Changes and Tips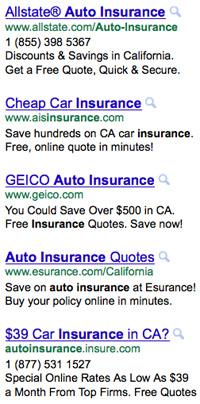 Check out the screenshot to the right. You can see that the display URLs are now right under the title, followed with description lines one and two. In the past, the title would always be directly followed by the description and then the display URL at the bottom.
Most users focus primarily on the title. Now that the display URL is so close to the title, it's more important than ever. Users are going to focus on your display URL more than ever before. My recommendation: Consider modifying your display URL to include relevant keywords (either as a subdomain or as a folder after the root domain). In the screenshot to the right, I personally like the Allstate ad since "Auto-Insurance" really stands out as a folder after the root domain in the display URL.
Another recent change to display URLs on AdWords (a few months back): Display URLs are now in lower case. You can no longer have title casing in subdomains and also root domains of display URLs. However, there's one exception: folders. Check out the esurance ad to the right, the folder "California" is in title case. Now, check out the ad for insure.com. The "autoinsurance" is in lower case. A while back, it was possible to leverage title case in subdomains and root domains, such as "AutoInsurance.Insure.com". My tip: Make sure to test both subdomains and folders. As you test folders, make sure to test both lower case and title case. Personally, I have found great success with title case and feel it will be even more important now that display URLs are right below the title.
So there you have it. A few recent changes to display URLs and a few tips on how to optimize the CTR of your ads. Hope this helps. Any special display URL strategies that have worked well in your AdWords campaigns?