I'm a huge fan of PR. From my experience, PR is an amazing way to get your name out there. It's an amazing way to build lifelong connections. It's an amazing way to help others. Also, PR Can Drive SEO Results. The more I grow as a marketer, the more I truly respect great PR.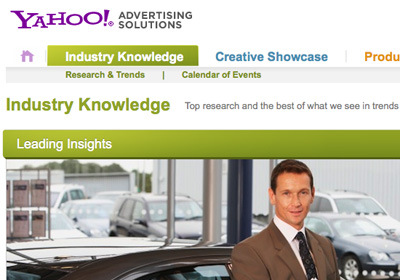 Today I'm thrilled to announce, quite possibly, my biggest PR win ever. I'm featured right now on the Yahoo! Advertising Solutions portal in a Case Study About The Yahoo!/Microsoft Search Alliance. That's right, I made it to the big leagues, we're talking about Yahoo! here. For the last few months, I've been working very closely with Yahoo!'s PR team. They wanted to talk to me about one of my favorite topics, The Yahoo!/Microsoft Search Alliance. Of course, I couldn't pass this opportunity by and the rest is history. You can read my case study here. If you'd like to download the PDF version (which I think is really sharp), you can find it here.
I want to take this opportunity to sincerely thank the Yahoo! team. It's a real honor to have this opportunity. More than anything, I have built lifelong friendships with my Yahoo! account management team and couldn't be more thankful. The Yahoo!/Microsoft Search Alliance truly is pushing the search marketing industry forward. It's making life a lot more fun for online marketers like me. Thanks Yahoo! for everything!
I also want to take this opportunity to thank all of you. I'm talking about my team, my co-workers, past reports, past co-workers, readers, friends, and family. Your support means everything to me. Want to read more about PPC Ian in the press? I just updated my About Me page to highlight my press mentions at the top. Also, I encourage all of you to push your limits in PR. Have a great experience to share? Get out there and share it – I'd love to read about your online marketing experiences in the next big case study!
Want to learn more about the Yahoo!/Microsoft Search Alliance? Following are a few of my favorite posts here on PPC Ian about the Search Alliance:
Image in this post © Yahoo!